'The thing I loved about him as a boss was that he never interfered, but you knew very well where you stood with him'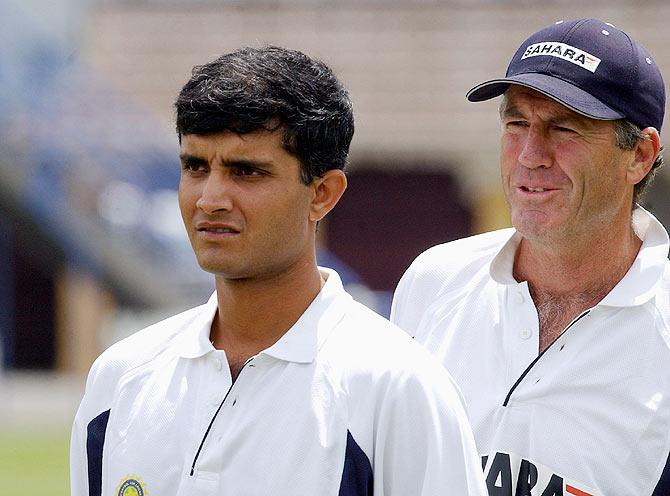 IMAGE: Former India coach John Wright (right) with then captain Sourav Ganguly during a training session. Photograph: Ross Setford/Getty Images
Former India cricket team head coach John Wright has described the late Jagmohan Dalmiya as a "pragmatic" cricket administrator and "best boss" he worked for.
Wright, who coached India between 2000 and 2005, said Dalmiya, who passed away on Sunday, was a "tough" but "fair" boss.
"I am very sorry to hear about Mr Dalmiya's passing away and as I look back at our time together when I was coach of India, he was probably the best boss I have worked for. He was a tough but fair boss," Wright said in his column for Cricinfo.
"I enjoyed working for him because he was tough but he was fair. And he always did what he said. I had a lot of time for him...we gained a great friendship and respect for each other," said the New Zealander.
"He cared about the team very much and he cared about Indian cricket. But he was pragmatic enough to know that if things weren't going well, then something would have to be done and it would probably start with the coach."
- Jagmohan Dalmiya: The man who showed who is the boss
Wright said what he "loved" about Dalmiya was his non-interference.
"The thing I loved about him as a boss was that he never interfered, but you knew very well where you stood with him. He didn't interfere with me about how to coach, you just had to report and let him know what was going on.
"He was hands off in that respect. It is why I say he is probably the best boss that I worked for, in terms of not telling you how to do your job, but telling you what was expected," Wright said.
Explaining the pragmatic part of Dalmiya further, the former New Zealand opening batsman said, "During one of our meetings just before the team left for the 2003 World Cup, he wished me good luck and said, 'if you don't come first or second we might not be meeting again'.
"When we reached the final, I was re-employed, and to me that was okay, because we used to joke about it. We knew there was a lot at stake, that it was important that the team did well," said Wright.
Wright said he and Dalmiya had the understanding that it was important for India and the team to get the results on cricket field.
"He understood that performance was important, it wasn't just about talking the good game; you had to get results. We would joke about it but it was real. He used to say, 'Well I might have to show you the door,' and I would say, 'if things don't go well, you will have to show me the door'," he said.
Recollecting the first day of his tenure as India coach, Wright said, "On the first day that I was in the job with India, Tony Greig said to me that Mr Dalmiya is a very powerful man in Indian cricket and it was ironic because he wasn't even the president (of BCCI) then.
"I had been hired by Mr AC Muthiah. The next thing I heard when he came to power in 2001 were rumours that he wanted to sack me and (physiotherapist) Andrew (Leipus). I met him for the first time when we went to Delhi for a long interview with him, two hours, in a hotel suite.
"At the end of it, I'll never forget what he said to me. His exact words were, 'I've heard a lot of things about you but you're quite tough. I think we could work together'. He asked me to put a report together about what Indian cricket needed and I spent a lot of time on it.
"He always wanted you to report personally to him. I had to fly every month to see him and we got to know each other well over the next four years. A lot of people said a lot of things about Mr Dalmiya, but you take everyone for what you see and he was a great boss to work for," wrote Wright.
Wright remembered another incident early in his tenure when India toured the West Indies.
"I remember early on while working together, we were on a tour of the West Indies. They were 400-something for 3 and Gautam Dasgupta, the manager, handed me the phone and said 'it is the president'. We were sitting in the pavilion in Georgetown, Guyana and Mr Dalmiya came on the phone and said,
'John, what is going on?' I can't remember what I said, something like, 'We have to do better, Mr President'.
"In those days I think failure wasn't tolerated whether you were a captain or coach or even administrator, you needed to win, or things changed very quickly...success of Indian team was very, very important."
Wright also said that Dalmiya was a staunch supporter of former India captain Sourav Ganguly.
"Mr Dalmiya was a big part of that era and while he gave both Sourav (Ganguly) and me support, he was a staunch supporter of Sourav but he also wanted the results.
"When I finished with India, he came over from Calcutta to attend a presentation in Delhi and he didn't usually do that a lot, it was a nice gesture. We kept in touch irregularly over the last few years."