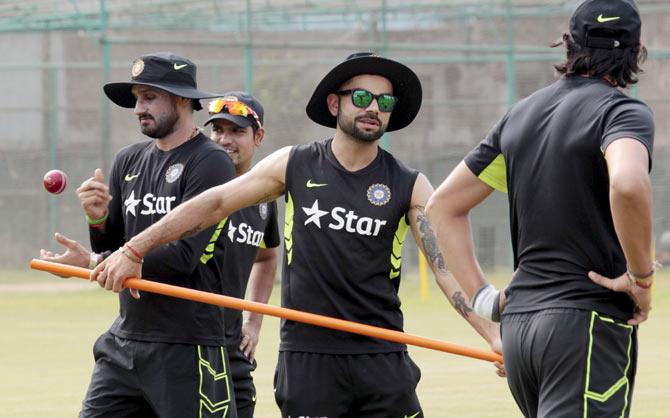 Virat Kohli (centre), India's Test team captain, and Harbhajan Singh (left) during a practice session in Dhaka. Photograph: Ashikur Rahman/Reuters
India Test captain Virat Kohli says senior off-spinner Harbhajan Singh will have a crucial role to play in the upcoming series in Sri Lanka.
The 35-year-old spinner is back in the Test side after being sidelined for more than two years.
"We have lot of experience with the spin department. (Ravichandran) Ashwin has been wonderful for us. Harbhajan Singh has been a match-winner for India in Test matches and One-day cricket.
"So it's great to have his vision, his ideas and his confidence back into the team and Amit Mishra's as well. He is bowling really well for the last one year or so and that is the reason why we wanted him in the team as well," he said.
Kohli said even the pacers will be required to do well in the island nation.
"I think not just the spinners, but the fast bowlers will also play a massive role in Sri Lanka.
"I think with the ball reversing later on; the fast bowlers have to be the ones who have to come in and give those crucial breakthroughs for the Test match to be won," he said.