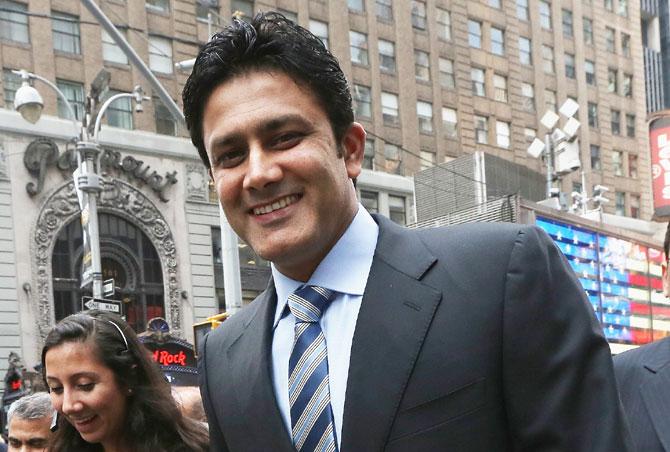 Former India captain Anil Kumble. Photograph: Mario Tama/Getty Images
With ICC cracking the whip on bowlers with suspect actions, legendary Indian leg-spinner Anil Kumble has said those with illegal actions should be spotted and corrected at an early age.
"It is important that we encourage bowlers at an early age because once you have a kink in the arm for various reasons it is very difficult to correct it as you go along," Kumble said.
"So you want to ensure that people with good clean actions are coming through from the bottom of the pyramid and hence it is important that it gets addressed," he said. Kumble also said that bowlers can bowl controversial doosra delivery within the allowed 15 degree elbow extension limit.
"Nobody has said bowling doosra is illegal it is the action that is all we are saying. So I don't think we should allow any change in rules," said Kumble.
'The bowlers reported will make those necessary corrections'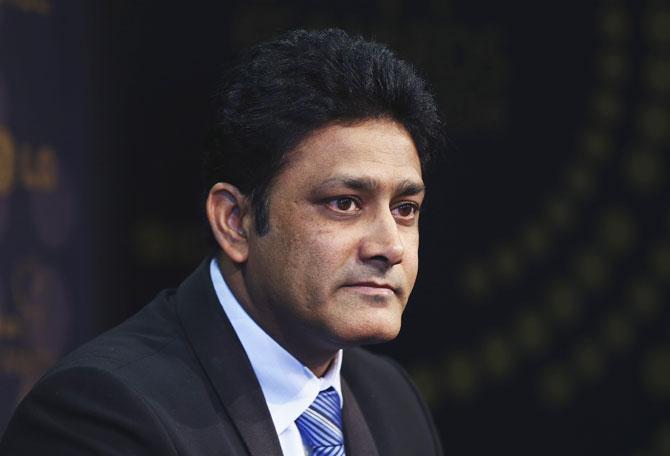 Former India captain Anil Kumble at a media gathering in Dubai. Photograph: Francois Nel/Getty Images
Kumble believes bowlers under ICC scrutiny for illegal action can make quick return to competitive cricket, provided they work on their flaws.
"I am really positive that bowlers who have been reported will make those necessary corrections and will be back," said Kumble.
"It is just a matter of time before you see them back in action. Once that happens I don't think they will even discuss anything to do with the angles."
Kumble, who took 619 Tests and 337 ODI wickets, is the ICC's head of cricket committee, which earlier this year recommended stringent measures against suspect bowlers.
'My senior colleagues felt that I was bending my arm'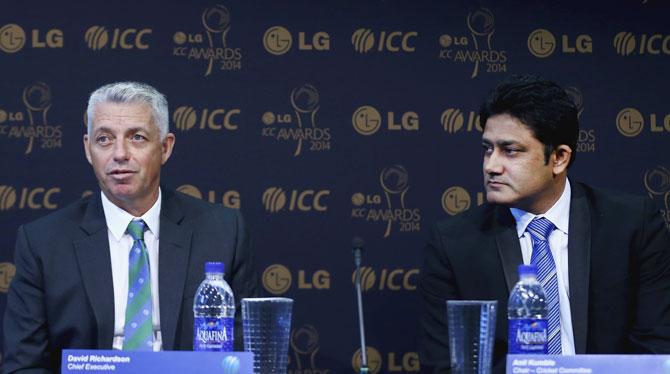 David Richardson, ICC Chief Executive and Anil Kumble,Chairman of the ICC Cricket Commitee talk to the media at a press conference in Dubai. Photograph: Francois Nel/Getty Images
ICC had of late suspended high profile bowlers like Pakistan's Saeed Ajmal, Sri Lanka's Sachitra Senanayake, Zimbabwe's Prosper Utseya, New Zealand's Kane Williamson and Bangladesh's Sohag Gazi for suspect action. Bangladesh pacer Al-Amin Hossain was also reported but was later cleared after a bio-mechanical analysis.
The 44-year-old former spinner said he himself suffered from the problem when he used to bowl pace at young age.
"When I started as a 13-year-old as a fast bowler I was told to stop by my senior colleagues because they felt that I was bending my arm as a fast bowler," recalls Kumble.
"There was no television, no video then so they said you should not be bowling that way because that came natural to me so immediately I changed to bowling leg-spin."