'This West Indies lot are the worst Test match team I have seen in more than 50 years of watching, playing and commentating on cricket.'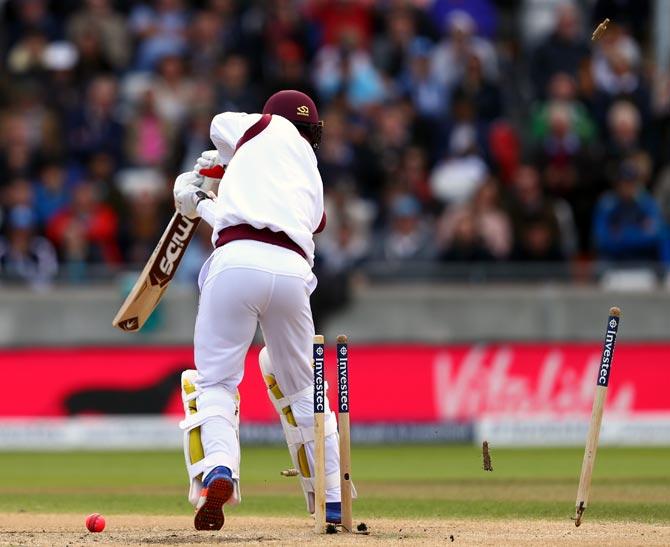 IMAGE: Kemar Roach is bowled by Stuart Broad during the day-night Test in Edgbaston. Photograph: Michael Steele/Getty Images
The gradual decline of West Indian cricket is hardly a new phenomenon but the latest capitulation of a once-dominant Test match power has brought genuine expressions of sadness throughout the sport.
The defeat by an innings and 209 runs in the first day-night Test in England at Edgbaston at the weekend left both Caribbean legends and old international foes alike bemoaning what they saw as Windies cricket crashing to rock bottom.
With a callow visiting team looking helpless in the absence of their best players and losing 19 wickets in one woeful day on Saturday, the overwhelming feeling was summed up by former England captain Michael Vaughan, who worries about yet more humiliation for the visitors.

"I really fear that this series could be one of the saddest for Test cricket," Vaughan told the BBC, before the secondTtest that starts in Leeds on Friday.

According to another former captain Geoff Boycott in the Daily Telegraph newspaper, there could be no room for English gloating because the Windies surrender at Edgbaston had been so "painful to watch."

"This West Indies lot are the worst Test match team I have seen in more than 50 years of watching, playing and commentating on cricket," Boycott wrote.

"They can't bat and can't bowl. I take no pleasure out of saying this as I played against some of the greatest players the world has ever seen wearing the maroon cap of the West Indies.

"It is a cricketing tragedy to see the West Indies like this... It is just sad to see a once-proud cricket Test team lower than any I have ever seen before."

The sadness was felt much closer to home, too, with the great Antiguan fast bowler Curtly Ambrose telling the Daily Mail newspaper: "It does hurt. And it has reached a point where it is very embarrassing.

"For now, I'm just hoping West Indies can compete at Headingley and Lord's (in the third Test) because what we have seen so far has been pathetic."

INTERNAL PROBLEMS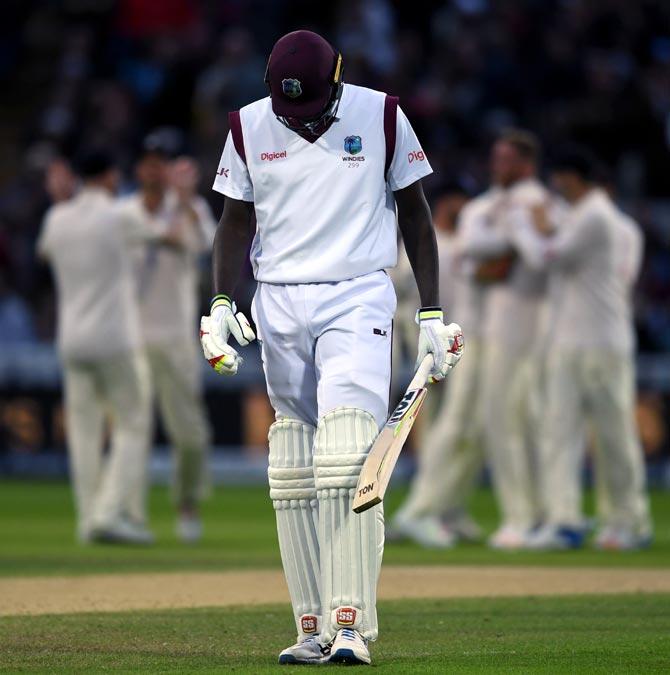 IMAGE: Kemar Roach is bowled by Stuart Broad during the day-night Test in Edgbaston. Photograph: Michael Steele/Getty Images
It is now 17 years since a West Indies side won a Test in England and, as Vaughan suggested, "every time they have arrived here, they seem to have got worse."

The halcyon days of those thrilling 1980s and early 1990s teams, when Ambrose and his fellow pace demons inspired fear and batting blasters like Viv Richards looked so imperious on English tours, have never felt more like pre-history.

The problems that have beset the sport in the Caribbean for so long were highlighted brutally in the Edgbaston debacle.

The West Indies may be the Twenty20 world champions but the mainstays of that triumph - like Chris Gayle, Marlon Samuels, Dwayne Bravo and Darren Sammy - now play lucrative T20 tournaments around the world rather than representing the West Indies after constant pay disputes with Cricket West Indies.

The world T20 win and the Wnder-19 team's world championship victory last year tell of talent and potential that can still be harnessed in the Caribbean game.

Yet at Test level, the internal conflicts have led to serial under-performing with the Windies having not won a Test series away from home, other than against the 'minnows' Bangladesh and Zimbabwe, for 22 years.

Without senior players to guide them, it was the way the young team folded so meekly at Edgbaston that upset Ambrose.

"I talked with Sir Viv Richards and Sir Andy Roberts at length before and during the Test about how we used to dominate world cricket, about our pride and passion. That's what's lacking," wrote Ambrose.

"What concerns me is that I do not think these players know what West Indies cricket means to West Indians and followers of the global game. People feel sad for us and that's just not right.

Ambrose was desperate to see an improvement at Headingley. "Come back with aggression, confidence and commitment," he commanded the class of 2017. "Our history and the pride we once had in our cricket demands it."