'In my opinion, looking at the composition, this is the weakest Australian side to tour India'
'I don't think this team has the wherewithal to cope with a quality Indian side in the Indian conditions'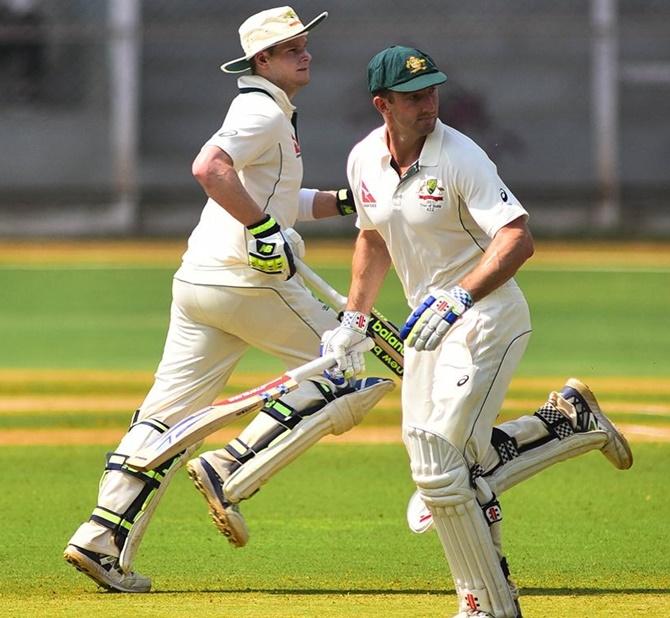 IMAGE: India are dubbed as overwhelming favourites against the Aussies. Photograph: BCCI.
Senior off-spinner Harbhajan Singh has rated the current Australian team led by Steven Smith as the 'weakest ever' in recent times to tour the Indian sub-continent.
India are dubbed as overwhelming favourites against the Aussies with the first Test starting February 23 in Pune.
"I have played against some of the best Australian sides. In my opinion, looking at the composition, this is the weakest Australian side to tour India. I don't think this team has the wherewithal to cope with a quality Indian side in the Indian conditions. It can again be 4-0 like 2013 season," Harbhajan said.
When asked about his strong observations, Harbhajan, who got a record 32 wickets in the epic 2001 series, said: "That team 2001 had Matthew Hayden, Michael Slater, Adam Gilchrist, Rickey Ponting and Steve Waugh. In this team, if you take Steven Smith and David Warner out, I don't think this batting line-up can offer resistance to Ravichandran Ashwin and Ravindra Jadeja. Both know how to get wickets on the Indian tracks."
In fact, the 'Turbanator' termed the England side that was drubbed 0-4, as a better outfit than this Australian side.
"I believe the England team that toured India recently were a better batting outfit. They scored 400 plus runs on a multiple occasions. It's not going to happen with this Australian side," said India's third highest wicket-taker.
Steven Smith has been a good player of spin bowling and something that one has seen in Indian Premier League also but Harbhajan counters.
"Take IPL out of the equation because those matches are played on flat batting pitches. And most of Smith's centuries are against spinners on Australian pitches. The length varies, there's less turn and the bounce makes it easier for strokeplayers. In India, Ashwin and Jadeja on these tracks will pose far bigger challenge for Smith. In case of Warner, he can attack which means he will give you chances," said Harbhajan.
He was also dismissive of Mitchell Starc being a big threat with his pace and ability to bowl reverse swing.
"The series is starting at a time when India summer commences. Starc would find it difficult to bowl more than 3-4 overs at full tilt in this heat and humidity. Also how many overs will Starc bowl in an innings? 20 overs. So how much his body will hold during the third or fourth spell will be key," he said.
Talking about Nathan Lyon's role, Harbhajan commented, "I have a lot of respect for Nathan Lyon. He has 200 plus Test wickets being an off-spinner playing bulk of cricket Down Under. But then again, he will be bowling to the likes of Virat Kohli, Murali Vijay or Ajinkya Rahane in India is different. The other two spinners are absolute rookies."
Talking about countering the Warner threat, Harbhajan said that one needs to slow down the game when Warner is batting.
"Warner will not be a player who would score 35 runs in a session. If he is around, he will look to score 75-80 runs. Now if Ashwin and Jadeja slow down the game, you can probably counter him. If he is on the attack, Virat should set in-out field. Keep a straightish mid-wicket. The aim will be to bowl six deliveries to Warner. Don't let him off strike.
"The left-right combination can hamper the rhythm of the bowlers. If Warner is attacking, don't have a forward short-leg and silly point for the heck of it just to play on a batsman's mind. If the batsmen is on ascendancy, no harm in playing a waiting game," he concluded.