'It's a given that Dhoni won't be around when next World T20 happens in n 2020. So, there wasn't any point continuing with him if he will not play World T20.'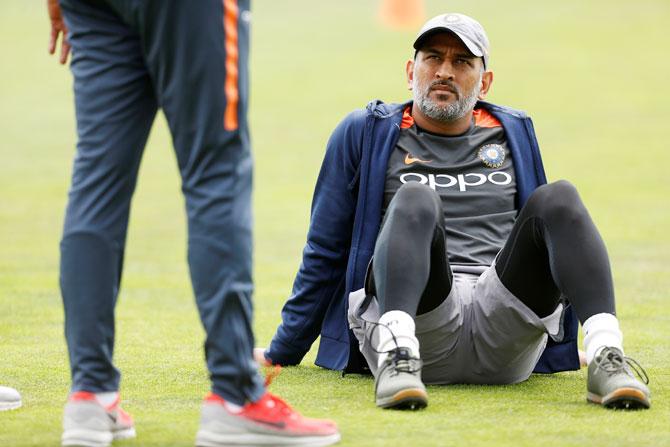 Former captain Mahendra Singh Dhoni has been dropped from India's Twenty20 squad for the matches against the West Indies and Australia, raising serious doubts about the long-serving wicketkeeper's future in the shortest format of the game.
India's Chief Selector M S K Prasad, however, said the 37 year old has been rested and his T20 career was not over.
"He's not going to play in the six T20s here and in Australia because we are looking at a second wicke-keeper," Prasad told reporters.
"That will be between Rishabh Pant and Dinesh Karthik, so they will be getting a chance to keep and bat."
Dhoni announced his sudden retirement from Test cricket midway through an Australia series in 2014, with the Boxing Day match in Melbourne being the last of his 90 appearances in the longer format.
He has continued to compete in limited overs internationals but questions have been asked by the local media if Dhoni, who will be 38 in 2019, will still be in the side at next year's one-day World Cup in England and Wales.
Dhoni was once considered India's best finisher and no target was deemed out of reach with the boundary-hitting right-hander at the crease. He has scored 1,487 runs in 93 T20 internationals, at a strike rate of over 127.
Although he remains supremely fit and his glove work is still of the highest quality, opinions are divided over whether age is diminishing his batting.
The 21-year-old Pant has been making his mark with his swashbuckling batting and India's selectors could already be planning ahead for not only next year's World Cup but the World Twenty20 the following year in Australia.
The national selection committee has shown first signs of phasing Dhoni out from one of the two limited overs formats and T20s certainly seem to be more convenient for the five wise men.
"It's a given that Dhoni won't be around when the next ICC World T20 happens in Australia in 2020. So, there wasn't any point continuing with him if he will not play World T20," a senior BCCI official privy to the selection policy told PTI on Saturday, October 27.
"Obviously, the selectors and team management had a good deliberation on this issue. Both Virat Kohli and Rohit Sharma were present at the selection committee meeting," the BCCI official added.
"You think selectors could have gone ahead without their approval?" the official asked.
In 2018, Dhoni played 7 T20 Internationals with an unbeaten 52 off 28 balls against South Africa being the highlight.
If that inning is taken out, Dhoni has scored 71 runs off 51 balls in the remaining 6 games that he has played.
It's no secret that Dhoni is the first-choice wicketkeeper for the England World Cup but a lot will depend on how he performs in the last three ODIs against the West Indies.