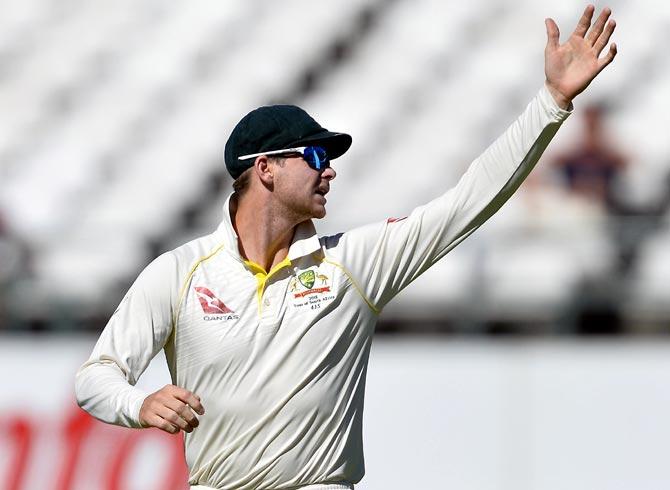 IMAGE: Steve Smith has been banned for 12 months for his role in the ball-tampering scandal. Photograph: Ashley Vlotman/Gallo Images/Getty Images
Reaction after Cricket Australia (CA) banned sacked captain Steve Smith and vice-captain David Warner for 12 months and opening batsman Cameron Bancroft for nine months for their roles in the ball-tampering scandal in Cape Town.

MICHAEL VAUGHAN, former England captain

"Steve Smith I think is a good guy who made a huge mistake. He needed punishing but I think this is too harsh. Bancroft who I don't know was led astray but deserved punishing but again too harshly IMO (in my opinion). The other guy I really don't care about."
TOM MOODY, former Australia all-rounder

"What happened in South Africa is incredibly sad on so many levels but what appears clear in my view is the punishment certainly doesn't fit the crime."

HARSHA BHOGLE, cricket commentator

"I honestly do not believe any other country would have handed its captain and lead player a 12 month ban for attempted ball-tampering."

SHANE WARNE, former Australia spinner

"We are all so hurt and angry and maybe we weren't so sure how to react. We'd just never seen it before. But the jump to hysteria is something that has elevated the offence beyond what they actually did, and maybe we're at a point where the punishment just might not fit the crime."

JOHN HOLDER, former Test umpire

"The problem with cricket is this perception that cricket is a gentleman's game. Cricket is not a gentleman's game... as you get more and more money in cricket the pressure to win big money increases. Cricket now is about winning and players will cheat... do whatever they can get away with."

SANJAY MANJREKAR, former India batsman

"As expected, CA have been very strict in their punishment to the offending players. The major take away from this is how critical your track record is."

MOHAMMAD KAIF, former India batsman

"So with the one year ban on Smith and Warner and also a two year captaincy ban on both, think India will be favourites when they tour Australia later this year. Wonder, who will captain Australia at the World Cup. Aaron Finch?"
VENKATESH PRASAD, former India bowler

"It is a serious matter (ball-tampering) and it should be dealt very seriously. Whatever has happened is not good for cricket. It is against the ethics and rule of the game. Using an object to change the condition of ball is not the right tactic."