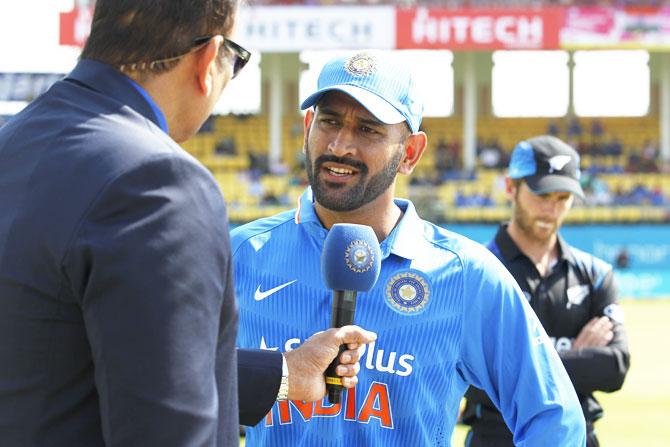 IMAGE: India's ODI captain Mahendra Singh Dhoni at the post-match presentation in Dharamsala on Sunday. Photograph: BCCI
Asserting that Indian cricket is different from that of other teams, limited overs skipper Mahendra Singh Dhoni has asserted that instead of following the West, emphasis should be put on what is good for the team and how it could be turned into a successful one.
"About the split captaincy, I think we look at the West a lot. I remember about a few years back, we were talking about split captaincy and now we are talking about why we are having split captaincy. So, I think a lot of times we look at the foreign teams as to what they are doing and what we should be doing that way," Dhoni said.
Indian cricket has worked with split captaincy for more than a year-and-a-half now. It should be noted that former team director Ravi Shastri openly expressed that he wanted Virat Kohli to take over as captain in all formats and, thus, Dhoni knows comparisons will be made when results don't go his way.
"It's more about what trend we want to set and what is good for our team because culture-wise we are very different, the amount of cricket we play is very different in comparison to what the other teams do. Let's not look at the West -- they are going into the gym, so we should go into the gym. We are a different team and we should do our own things to be successful," he added.
The wicketkeeper-batsman from Jharkhand had also insisted on Saturday that he is open to take on-field advice from Test skipper Virat Kohli.
"I have already started using him (Kohli) more. There's more interaction and it's evident if you watch the game. There is more interaction on the field and everything because two individuals will conduct in different ways. So, it is important that during the course of the game practical ways are very important," he said.
"Some times, you can argue on the theory aspect but practicality is more often than not, the game. So, you always talk about what should be done, he will give an example then if I am not on the same page, I will explain as to why I think this may not work and If I go with my decision and if it doesn't work then it also gives me a fresh view of how the thing would have worked. At the end of the leader, as a leader you have to take the responsibility for what happens," he added.