'Every player goes through a time where they're not scoring runs'
'A couple of weeks of poor cricket doesn't change the quality. I think he's definitely the right bloke'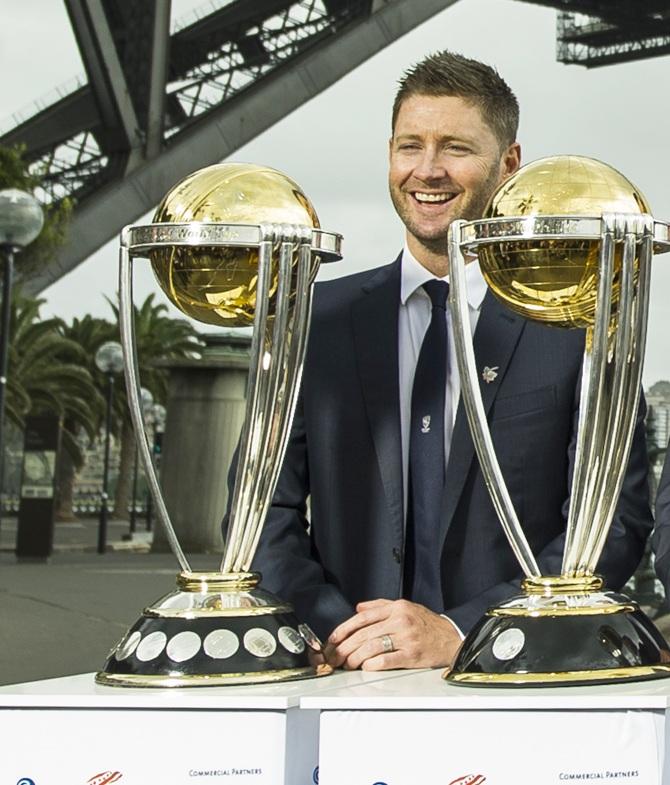 Michael Clarke poses for a photo with the ICC Cricket World Cup Trophies. Photograph: Brett Hemmings/Getty Images
Australia's three World Cup-winning captains are unified in their belief that under-fire skipper Michael Clarke is the right man to lead the team to a potential fifth tournament victory next March.
A disappointed Clarke arrived home from United Arab Emirates on Wednesday eager to shake off Australia's Test series loss to Pakistan and was surprised to face questions about whether he was worried about losing the captaincy ahead of the World Cup.
Former captains Allan Border, Steve Waugh and Ricky Ponting, all of whom guided Australia to World Cup titles, dismissed the possibility of Clarke being sacked from the job.
"I think that was quite ridiculous, to tell you the truth," Ponting told reporters at an event in Sydney on Thursday to mark the start of a 100-day countdown until the 2015 World Cup begins on February 14.
"The team has done some amazing things in the last couple of years," he added.
"We know that out of the last couple of weeks the guys didn't handle the conditions that well over there but... it's two Test matches, a bit of a blip on what's otherwise been a pretty good copybook for the last couple of years."
Clarke's side were hammered in the two-Test series, losing the first match in Dubai by 221 runs and second in Abu Dhabi by 356 runs for a first series loss to Pakistan in two decades.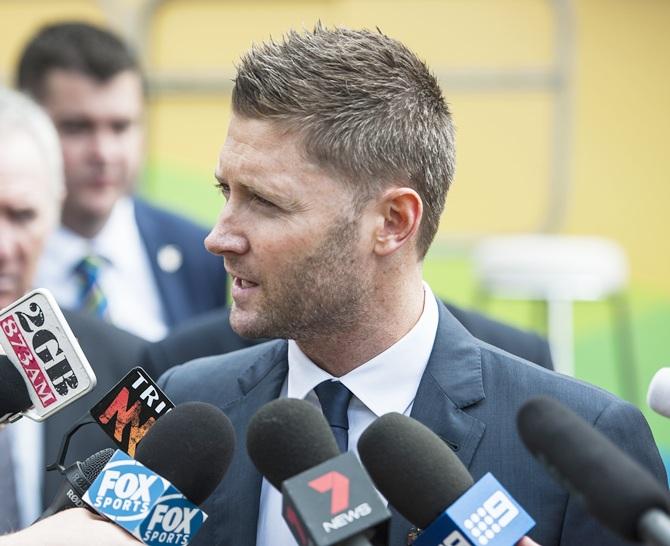 Michael Clarke speaks to the media during the ICC 2015 Cricket World Cup 100 days to go announcement. Photograph: Brett Hemmings/Getty Images
The 33-year-old Clarke also struggled with the bat -- amassing just 57 runs in four innings -- but Waugh said that was nothing to be worried about as Australia prepare to co-host the One-day International tournament with New Zealand.
"I can't understand that. I mean, every player goes through a time where they're not scoring runs," Waugh said. "But he's had an incredible run (and) I think he has done a fantastic job."
Border, who led Australia to their first World Cup triumph in India and Pakistan in 1987, admitted he was surprised by the criticism aimed at Clarke.
"They've got short memories," he said. "A couple of weeks of poor cricket doesn't change the quality. I think he's definitely the right bloke."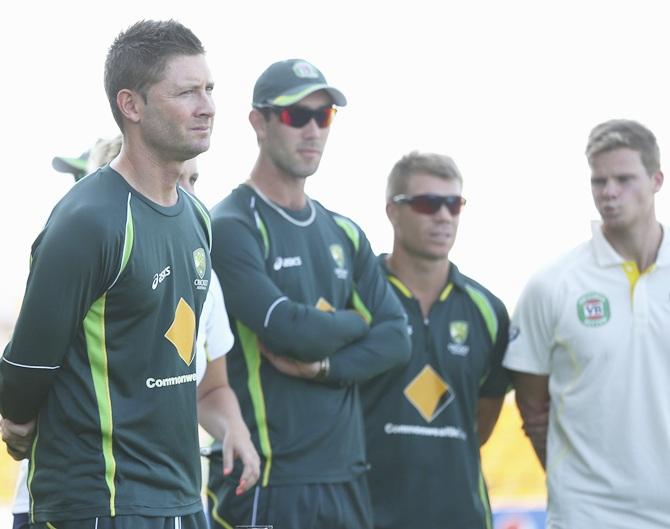 Michael Clarke of Australia looks on. Photograph: Ryan Pierse/Getty Images
Clarke's next assignment is to lead his side in a five-match One-day series against South Africa, which starts next week, though both Australia and New Zealand put any match preparations aside to acknowledge Thursday's countdown milestone.
Former New Zealand fast bowler Richard Hadlee, still the highest Test wicket taker for the Black Caps with 431, attended a ceremony with the World Cup trophy on Auckland's waterfront as it began a tour of the country.
Taking a lead from the 2011 rugby World Cup organisers' pledge to deliver 'a stadium of four million' to encourage fans in New Zealand to welcome teams from across the globe, Hadlee said it was imperative the country got behind the tournament.
"Here is an opportunity to showcase New Zealand to the whole world by being co-host of the 2015 World Cup," Hadlee told reporters.
"We have to do it right, we have to do it well, we have an opportunity to support our team on home conditions."