The IPL, all of a sudden, may have some catching up to do with the Big Bash, says Dhruv Munjal.
IMAGE: Royal Challengers Bangalore cheerleaders perform their gig to Bollywood songs. Photograph: BCCI
The 2016 season was supposed to be Indian Premier League's litmus test.
By the time the tournament started in March, India had played almost three months of non-stop T20 cricket, which saw them beat Australia and Sri Lanka, lift the T20 Asia Cup in Bangladesh, and then crash out of the T20 World Cup in the semi-final against the West Indies at the Wankhede Stadium in Mumbai.
The edition would be the first after the Supreme Court-appointed Justice R M Lodha Committee had put out of a slew of recommendations to clean up the sport in India the previous year.
Moreover, it would feature two new teams, the Rising Pune Supergiant and Gujarat Lions, replacements for the suspended Rajasthan Royals and Chennai Super Kings.
The anxiety was only understandable.
After a couple of jittery weeks, however, ratings soared. '
The 2016 edition registered a cumulative reach of 361.2 million, up 88 per cent from the previous year.
When compared to 2008 -- the league's inaugural year -- viewership numbers shot up by a mind-numbing two-and-a-half times.
The league managed to rake in over Rs 1,100 crore (Rs 11 billion) in advertising money from sponsors.
IPL had managed to defy the sceptics yet again.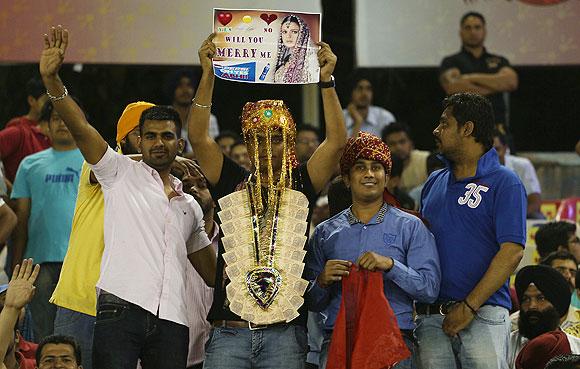 IMAGE: During a Kings XI Punjab game, Punjab co-owner Preity Zinta received a very thoughtful marriage proposal from this young fan. Photograph: BCCI
"The combination of a billion crazy fans, the world's best players on one platform, scintillating on-field performances and some great marketing by the Board of Cricket for Control in India is what always makes IPL click," says Varun Gupta, managing director (India), Duff & Phelps, the international firm that evaluates IPL as a brand every year.
In 2016, IPL's brand value rose to $4.16 billion from $3.54 billion in 2015.
Hemant Dua, CEO of the Delhi Daredevils, says 10 years later, people still enjoy IPL's mix of sports and entertainment.
"Moreover, the symbiotic relationship between the franchises and the league has helped the league grow phenomenally."
To attract more viewers, the IPL Governing Council last year introduced 'fan parks.'
With giant screens in open spaces across 34 Indian cities, such parks allowed fans to enjoy IPL games in a stadium-like environment without buying a ticket.
Each IPL Fan Park had an average footfall of 15,000 to 20,000 on any given weekend.
"The idea was hugely successful in smaller cities," Gupta adds.
Revenue and television audiences have never been pressing issues for the IPL bosses.
Beyond the money-making though there is a deeper concern -- one that involves the very foundation around which the league is built: Cricket.
In early January, as his teammates cooled their heels after a disastrous Test series in India, Eoin Morgan, England's limited overs captain, sent the crowds into raptures in the Big Bash.
With five required off the last ball in a league game against the Melbourne Stars, Morgan launched Ben Hilfenhaus for a monstrous six that landed on top of the sight screen.
Kids gamboled in the aisles as a packed house at Sydney's Spotless Stadium erupted.
A couple of weeks later, as David Warner fully unleashed his destructive wizardry and nonchalantly pulled out hundreds from his back pocket in the one-day international series against Pakistan, there were few in the stadium to witness it -- instead they swarmed venues hosting the Big Bash.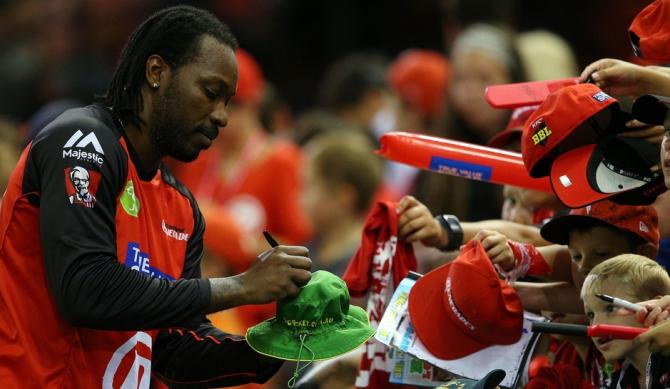 IMAGE: Chris Gayle of the Melbourne Renegades signs autographs for fans during a Big Bash League game against the Adelaide Strikers. Photograph: Graham Denholm/Getty Images
The 2016-17 season of the Big Bash was a colossal success.
The host broadcaster, Network Ten, pointed out that the average viewership for every match was a little over a million.
Out of a total of 35 games, as many as 20 were sold out.
A few cricketers, Morgan included, went as far as saying that the Big Bash was the best T20 tournament in the world -- an emphatic dispelling of the myth that IPL was the gold standard for T20 cricket in the world.
"Both are quality products," says former Australian coach John Buchanan.
In terms of sheer quality, IPL, all of a sudden, may have some catching up to do.
Its last season dished out lopsided, often unendurable three-hour doses of T20 cricket. An obvious lack of quality ensured that the tournament remained wide open till the end.
For a major part of the 2016 season, the sanguine fan sat in front of the telly every night hoping to see a contest that would leave the nerves jangling.
Instead, he was served an insipid display that forced him to slumber the evening away.
"I think organisers need to just focus on the cricketing part. There is no balance between bat and ball. Last season, for example, we saw a familiar pattern: Win the toss, bowl first and win," says a retired IPL player.
"We have to give the audience something different."
Sadly for Warner, he had experienced the despair of playing in front of half-empty stadiums before.
When his Sunrisers Hyderabad team romped home to an unlikely title win last year, only a few thousand enjoyed Warner's belligerent brand of cricket.
While there is no viewer fatigue, according to Dua, he adds that the amount of cricket being played has gone up.
"Maybe the International Cricket Council, BCCI and other boards need to sit together. There can be good pauses between different series across the world. Ultimately, it is also the players who need a break," he says.
Experts point out how Australia's bigger grounds and fairer pitches somewhat offset the edge enjoyed by batsmen in the modern game, resulting in genuine competitiveness during the Big Bash, something IPL has faltered in accomplishing.
"A spectator wants to see close matches. T20 needs to be careful that it does not swing the balance of the game too much in the favour of batsmen," explains Buchanan, who was also the head coach of the Kolkata Knight Riders from 2008 to 2009.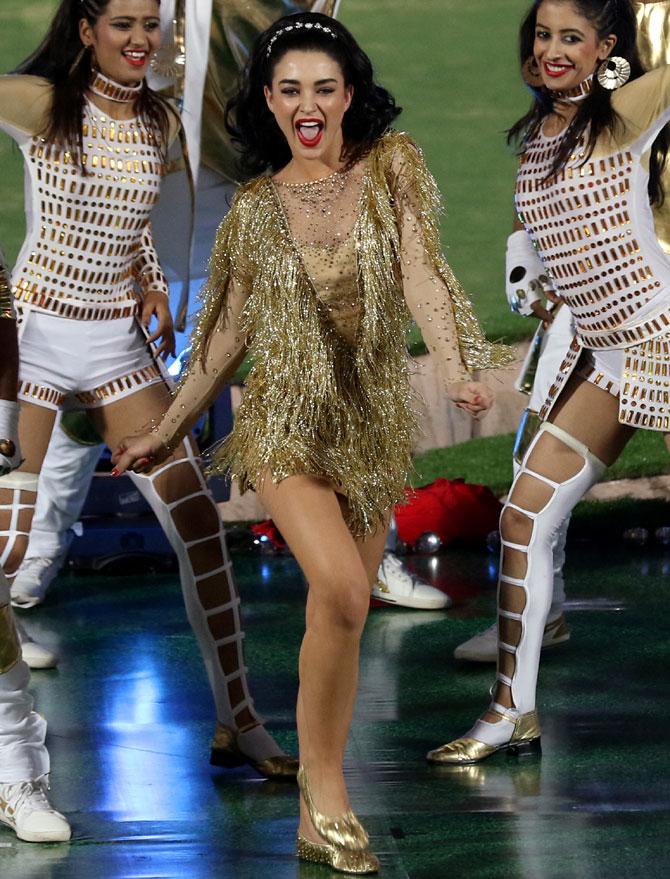 IMAGE: Amy Jackson performs during the opening ceremony of IPL 10. Photograph: BCCI
Any glowing tribute to IPL seems incomplete without a mention of how the tournament provides a springboard to younger players, an opportunity to take the elevator instead of the stairs to the Indian team.
That may not be so true after all, feel some experts.
"In addition to seasoned Indian players, you have so many big foreign players. The younger lot seldom gets to play," says Charu Sharma, a former mentor for the Royal Challengers Bangalore.
"There are some exceptions, of course."
India's experience with players coming through IPL has been largely distressing.
Of the current crop, only Manish Pandey, Hardik Pandya, Yuzvendra Chahal and Jasprit Bumrah are true creations of the IPL.
Pandey and Pandya have only enjoyed sporadic success; Chahal and Bumrah have both shone, but they enjoyed stellar domestic success before their time with India too.
A few other IPL products such as Manpreet Gony, Rahul Sharma, Parvinder Awana and Karn Sharma have quickly faded into oblivion.
"Sometimes, a handful of games just aren't enough to fully test a player. The IPL is not the soundest criterion for selection to the Indian team, and that's why the results have been mixed," says a former Indian wicket-keeper.
More alarmingly for India, despite the IPL being in existence for a decade, the team has routinely and monumentally failed at discovering a world-class death bowler,
Bumrah perhaps being the only aberration. Nor has it been able to nurture a ball-belter who can hit sixes down the order: The fleeting Yusuf Pathan era seems like an eternity ago.
A few years ago, Gideon Haigh, the Australian cricket writer, wrote about how one keeps looking for innovation in the IPL, but all one gets to see is Lionel Richie performing the show-stopping act at the opening ceremony.
Ever since it began, innovations in IPL have been limited to cheerleaders and strategic timeouts, an awfully disguised attempt at squeezing in more ad time.
Buchanan, for instance, suggests the introduction of a pink ball, the use of substitutes, allowing captains to freely communicate with the bench, and scrapping the limit on bat sizes.
"Administrators need to understand that new people will be introduced to cricket only through the T20 format, simply because of its entertainment quotient. So it needs to be clearly differentiated," says the 63 year old who now runs Buchanan Success Coaching in Brisbane.
Proposed measures of inventiveness are not limited to the field.
In his engrossing debut book, Not Out! The Incredible Story of the Indian Premier League, Desh Gaurav Chopra Sekhri argues that the auction system be replaced with a NBA- or NFL-style draft system.
"A draft ensures greater parity among teams. But putting that in place will take away so much of the theatrics that the auction produces," he says.
"But the auction is maturing. Ishant Sharma going unsold this year is an example of that."
Others, such as Dua, talk about bringing fans closer to the game.
"Obviously, we can't change the format. What we can do is improve fan engagement. Technology will play its part here and try to make it a more inclusive sport."
With heavy, overlapping commercial interests at play, IPL, in the past, has firmly established itself as a nefarious breeding ground for scandal: Spot fixing, illegal betting, after-game parties, bankruptcy and IPL Commissioner Lalit Modi's flight from India.
Turning around its ignominious reputation remains one of the league's foremost challenges.
Its negligence in sanitising operations has cost it dearly in the past.
In 2015, Pepsi, the title sponsor, chose to wind up its IPL association with two years still left on its contract. It cited the negative publicity the tournament was regularly generating as the main reason for abandoning support.
In 2012, DLF did something similar, opting not to renew its contract after the first five years.
In fact, most business behemoths now prefer to stay away from the IPL -- a void that is being filled by smaller companies like Vivo and Oppo.
Corporate interest in buying teams has also dwindled.
In 2010, Sahara shelled out almost Rs 1,700 crore (Rs 17 billion) for the now defunct Pune Warriors India franchise.
Five years later, the Gujarat Lions -- albeit a temporary team -- was snapped up by Intex for just Rs 10 crore (Rs 100 million).
Sekhri feels getting the perception right is the IPL's biggest battle.
"The next two years will be crucial. It'll be interesting to see how they seamlessly integrate Chennai and Rajasthan once they've served their suspension. That will be tricky ground," he says.
The threats, however, aren't only restricted to its notorious stature.
With other tournaments such as the Pro Kabaddi League and Hockey India League, the viewer has more choice.
"Other quality leagues have come up. And sponsors are not afraid of putting money there. Sometimes, the returns are better than the IPL," says Sharma, director of the Pro Kabaddi League.
While IPL will keep booming money-wise, Sekhri adds it can only be dislodged if six or seven of these new leagues come together.
But what everyone agrees on is the IPL's unflinching ability to survive, and thrive -- no one dares to cast a shadow on its imminent future.
Cricket will never go out of fashion, but if the IPL does not clean up its act and make the watcher its prime focus, it eventually might.