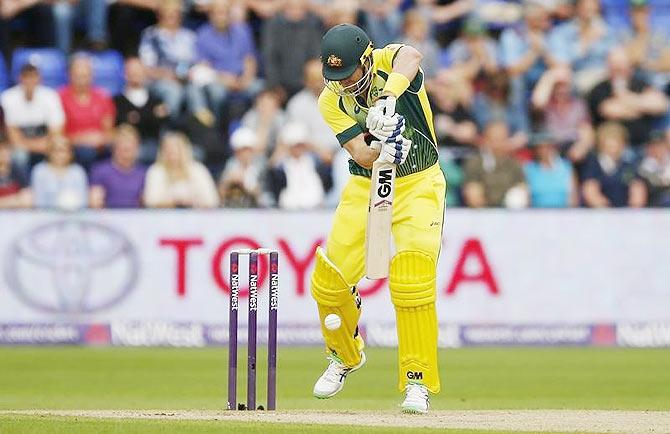 Australia's Shane Watson is bowled out during the T20 match against England in Cardiff on Monday. Photograph: Andrew Boyers/Action Images via Reuters/Livepic
Shane Watson's pads have never tired of planting themselves between ball and stumps but on Monday in Cardiff their failure to do so delivered the ultimate punchline at the Australian's expense.
Dumped from the Test side after a pair of trademark lbw dismissals in the first Ashes clash, Watson had hoped for a decent score on his return to the Welsh capital for a one-off Twenty20 match against hosts England.
- Cardiff T20: Morgan, Moeen help England edge past Australia
Instead, the hapless all-rounder trudged darkly back to the dressing room with eight runs after one of the most comical dismissals of his 10-year international career.
Watson played back to a delivery from bowler Steven Finn but watched in alarm as the ball trickled towards the stumps.
His attempt to kick it away connected with only fresh air, leaving a rueful Watson to watch it gently knock off a bail.
Dismissed lbw nearly 30 times in Tests, Watson has rarely had any trouble getting his pads in the way, so the irony of his dismissal raised chuckles around the ground, not least the English coaching team who heartily enjoyed it from the balcony.
"It was a little bit unlucky, wasn't it?" Australia captain Steve Smith, the non-striker at the time, smiled to reporters.
"I guess that's just the game of cricket though. It was a tough one for him and we had to rebuild after that."
Australia failed to rebuild adequately, losing the match by five runs.
Though Watson's Test career could very well be over, the 34-year-old is still a member of Australia's limited overs squads and will pad up against England for the coming one-day series.
The same cannot be said for legspinner Cameron Boyce, whose one-off cameo added another element of farce to the tourists' day.
Picked exclusively for the T20 match, Boyce was flown thousands of miles from Australia to bowl a single over, conceding 19 runs from it as a belligerent Moeen Ali smashed him for two sixes and a four.
He never returned for a second over and batting at 11th in the order, did not even get to the crease as Australia finished up short with eight wickets down.