Claiming that he has no knowledge of his son-in-law Gurunath Meiyappan's involvement in betting, BCCI chief N Srinivasan on Saturday said there will be no discrimination and action will be taken against him with the "same alacrity" with which steps were taken against players.
"You can be sure BCCI will act with the same alacrity. As far as Mr Gurunath is concerned, whatever steps of action which have been taken in case of anybody else, same will apply to him. There will be no discrimination," Srinivasan said.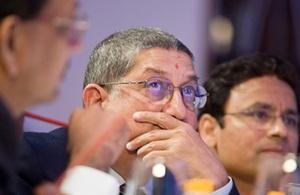 Srinivasan claimed ignorance when asked about Chennai
Super Kings 'Team Principal' Gurunath's involvement in betting on IPL matches, and corroborated his stance by claiming that he hardly watches a game or goes to the ground.
"I had no knowledge about Gurunath's involvement. Everybody knows that I hardly watch a game, everyone knows that I do not go to CSK's games.
"The fact is that a probe will be carried out, whatever steps to be taken, will be taken objectively and fairly," he told NDTV.
While making it clear that he has no intention to resign from his post, Srinivasan said he has the support of the Cricket Board.
"I don't agree to that," he said in response to a query that a certain section of the board wants him to step down on moral grounds.
"A lot of BCCI members have sent me messages of support," he added.
He also refused to believe that the board's reputation has taken a beating following the spot-fixing scandal.
"The board's reputation is not tarnished.
Srinivasan remained defiant despite calls for his resignation.
"This is orchestrated pressure according to me. As the elected president of the BCCI, I have done nothing wrong throughout the period that I have been president.
"I don't see any reason for the people to ask me to step down. I have seen media baying for my blood, political parties saying that I should resign and various other people also.
"The media could have been fair to us. They have gone overboard against me."
Photograph: Ritam Banerjee/Getty Images