Pakistan Cricket Board chairman Zaka Ashraf says they have no clue why Pakistani umpire Asad Rauf is under investigation in the IPL spot-fixing scandal, and been withdrawn from the Champions Trophy.
Rauf is under the police scanner for alleged involvement in the spot-fixing although nothing concrete has come out yet.
"The ICC has told us they were withdrawing Rauf from the Champions Trophy panel. But so far we don't know for what he is under investigation in India," Ashraf said on Friday.
He said, obviously, they are concerned about the Rauf issue and want more details.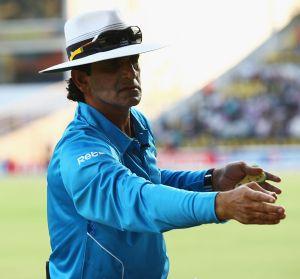 "We had nothing to do with his appointment in the IPL, as he is on the ICC elite panel and they post him. And we consider this IPL spot fixing scandal as an issue that has to be dealt with by the ICC and the Indian Cricket Board, but we would like to be kept abreast because of Rauf," he said.
Ashraf said the ICC hasn't given any reason in their e-mail on withdrawing Rauf from the Champions Trophy.
"They have only told us about his withdrawal, so we don't know what he has done," he added.
The PCB chief went on to add that if the ICC asks for any action against Rauf the board will look at it.
"What is not good is that these sorts of controversies emanating from these popular T20 leagues is not good for the game of cricket," he said.
"These incidents are alarming for everyone in the cricket world including the PCB. But, like I have said before, all stakeholders have a responsibility to jointly deal with this problem. This problem has to be dealt with in a combined fashion and it is not possible for one board to do anything."
Ashraf said the recent incidents in the IPL had come as a shock because people wanted to see clean and competitive cricket matches and these things created doubt in their minds, which is not good for image of cricket.
Photograph: Matthew Lewis/Getty Images
© Copyright 2021 PTI. All rights reserved. Republication or redistribution of PTI content, including by framing or similar means, is expressly prohibited without the prior written consent.