Despite suffering their seventh straight defeat in the ongoing Indian Premier League, Pune Warriors opener Aaron Finch seemed quite content and said they can "still take a few positives" from the five-wicket loss to Rajasthan Royals.
-PHOTOS: Rajasthan Royals invincible at home!
-IPL PHOTOS: HOT Shilpa Shetty's prayers answered!
-Royals stay in hunt for knock-out berth with 5-wkt win
"We still can take a few positives from the match despite the fact that it was the same old story with losing after being so close," Finch said.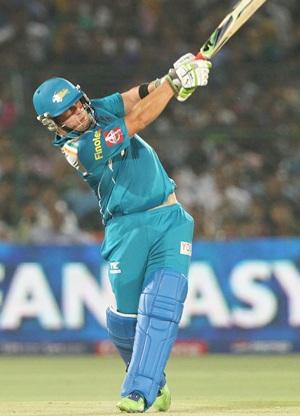 Rajasthan rode on Rahul Dravid and Ajinkya Rahane's brisk half centuries to emerge victorious, and Finch praised the way the former India captain paced his innings.
"He is a class batsman. With more than thirteen thousand Test runs under his belt, his class is undoubted. He has worked hard and brought in some changes in his batting and now he is comfortable in this format too.
"He has become a world class T20 batsman, which is an unbelievable achievement. As one of the best Test batsman he understands the game well. He got the job done like a surgeon," Finch said.
Talking about the match, the Australian said, "Yes it was pretty close. We also played well and were there in whole of the match. In fact it was one of those rare days when both teams played exceedingly well.
"It was unfortunate that we lost but we had our chances and also had hope when we needed 30 odd in last three overs. A few big overs did us at crucial juncture," he said.
Finch refused to believe that the initial few overs from his bowlers were not up to the mark.
"The wicket had enough for the fast bowlers. There was movement and I feel it was a great wicket. Rajasthan Royals played very well. Two class players were there at the crease and played very good innings."
Dravid and Rahane laid the foundation for Rajasthan's win with a 98-run opening-wicket stand.
Photograph: BCCI