Senior Delhi Daredevils batsman Virender Sehwag batted for around 25 minutes during the team's net session as pacer Morne Morkel hinted that the batsman might just be ready to play his first match of the sixth edition of Indian Premier League to be played in Delhi, on Friday.
"Viru (Sehwag) is improving, he is getting better with every passing day. But we will take a decision on him only tomorrow. There is still 24 hours for the match, so there is plenty of time for him to be fully fit," Morkel said at the pre-match press conference on Thursday.
- I don't think Sehwag will play for India again: Boycott
Sehwag's presence will definitely bolster Daredevils' hopes after the Delhi outfit witnessed a disastrous start to their IPL 6 campaign having lost their opening three games in the event.
"We did not have the best of starts this year, but we have identified the areas we got wrong. We have worked on them and hopefully we will get the momentum from tomorrow," Morkel said.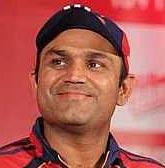 "We do have certain plans which we need to execute tomorrow. Kotla is our home ground and we need to take advantage of that. The mood in the team is good and hopefully we will come out with a positive result tomorrow before out home crowd. We are hungry for a win.
"Sunrisers are a very dangerous team. We need to get early wickets if we bowl first and also bat positively. We need to be street smart," the South African speedster added.
With dangerous Sehwag likely to return, Sunrisers team mentor VVS Laxman had words of advise for his bowling unit.
"No doubt Sehwag is a dangerous player in all formats of the game. But we will definitely come out with a plan," Laxman said.
"It is very important for us to bowl to our strength and not to get overrawed by the opposition batsman at the other end."
Talking about his side, Laxman said with the likes of Dale Steyn, Ishant Sharma and Amit Mishra up their ranks, bowling is definitely their main strength.
"But we have also got some talented batsmen in the side," Laxman said.
The former India cricketer is pleased with the Sunrisers' start in their debut IPL season.
"We have won two out of three games. The win against Royal Challengers Bangalore at home was special as the match went into the Super Over," Laxman said.
"In the last game at Bangalore, we got a good score but Virat Kohli played a dream knock and took the game away from us."
Laxman also backed Sunrisers' captain Kumar Sangakkara, who made scores of 15, 16 and 23 in their opening matches.
"He (Sangakkara) is one of the top batsmen in the world and there's no doubt about it. He has been very good as a leader. He has been brilliant as a captain and is leading from the front," he said.