Virat Kohli has been appointed the new Royal Challengers Bangalore captain. The vice captain of the India team succeeds the highly respected and successful former RCB captain Daniel Vettori.
The young batman's appointment follows a productive IPL 6 auction in which RCB strengthened their bowling line-up significantly and added capable all-rounders to increase the amount of flexibility in the selection of the playing squad.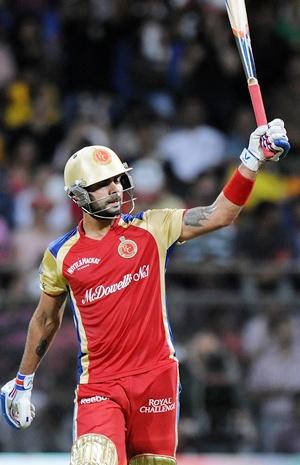 The team owner, Dr. Vijay Mallya said, "We are delighted to announce Virat as our captain. His hunger to learn, lead, motivate and set an example is unquestionable."
Kohli, recently bagged the International Cricketer of the Year, is the 11th highest run scorer in overall IPL history. With 1639 runs, Av: 28.25, highest score 73* and a strike rate of 119.28 to his name. He has scored 8 fifties, hit 154 fours and 49 sixes. He is also the third highest run scorer in Champions League T20 history.
Kohli holds the second highest, IPL second wicket partnership record (204*) with Chris Gayle against Kings' XI Punjab in 2012. The same two players also hold the second highest second wicket partnership (141) in the Champions League T20.
An elated Kohli said, "Glad to be appointed captain of RCB. It's a great feeling. Being drafted as an under-19 player in 2008 and now to be considered to lead the side of great players, is a big honour. I thank the owners for reposing their faith and I am looking forward to the challenge and the responsibility to carry the team to greater heights."
Kohli's other interesting statistics:
His 28 catches, the 4th highest in IPL between 2008 and 2012
His 10 catches is the most taken by any player and his batting Av: 38.54 is the 4th highest in the Champions League
His 77 matches is the highest for RCB and 3rd most appearances by a player in the IPL
He has saved the 2nd most runs in the field behind Kieran Pollard in the IPL between 2008 and 2012.