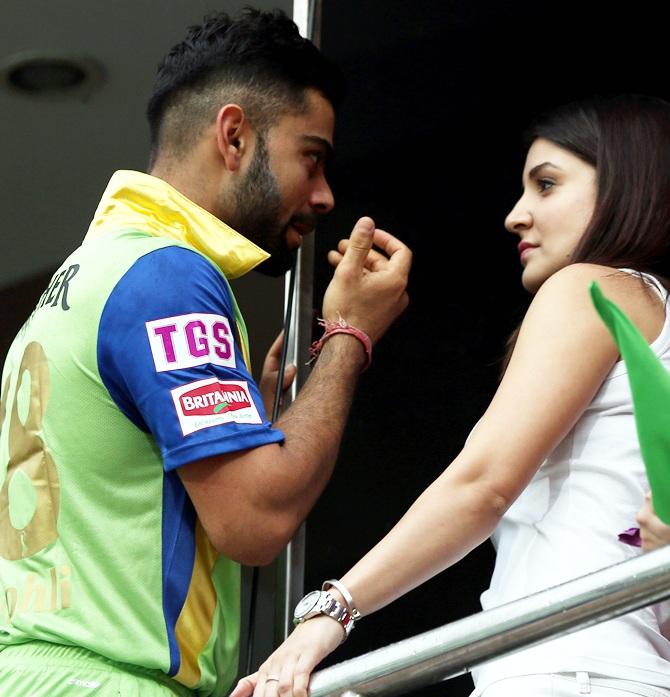 Royal Challengers Bangalore captain Virat Kohli chats with his girlfriend, Anushka Sharma. Photograph: BCCI
Royal Challengers Bangalore captain Virat Kohli was found guilty of violating the BCCI's anti-corruption code after he met his girlfriend Anushka Sharma at the stands during an Indian Premier League match in Bangalore but let off as the breach was found to be a minor one, according to a report.
This time it's rain...not Anushka
Kohli met Anushka at M Chinnaswamy Stadium stands during the rain-break of the RCB's match against Delhi Daredevils on Sunday.
Kohli was seen interacting with Anushka, who was standing in the VIP enclosure which is adjacent to the players' dressing room.
The precise code that Kohli was found to have breached relates to the minimum standards for Players and Match Officials Area (PMOA).
Kohli was informed of the infringement by BCCI anti-corruption unit head Ravi Sawani and let off as it was found to be a minor one, a report in the ESPNcricinfo said.
The exact code Kohli broke was 5.1.2(c) which reads: "Whilst outside of the PMOA, the Player, Player Support Personnel or Match Official must only communicate with those third parties with whom he/she has permission to communicate and only engage in such communications as are necessary for the completion of such purposes as have been approved."
The PMOA is monitored by the ICC's Anti-Corruption and Security Unit, which has been contracted to provide anti-corruption cover during the IPL.
According to the protocol, the ACSU general manager YP Singh sent the report to Sawani, who has the authority to take the necessary action depending on the degree of violation, the report said.
© Copyright 2021 PTI. All rights reserved. Republication or redistribution of PTI content, including by framing or similar means, is expressly prohibited without the prior written consent.