Royal Challengers Bangalore's Daniel Vettori said their opening match against Mumbai Indian's will give them a chance to assess where the team stands and what would be their course of action during the sixth edition of the Indian Premier League.
"Mumbai Indians have got strength, all up and down the lineup. It is a great opening game for us. It will give us real test of where we are early on and we can assess how we can go in this competition depending on how we perform against the Mumbai outfit," said Vettori.
New Zealand spinner, who handed over the captaincy to Virat Kohli after the Indian had a taste of the top job last year, said his role this season would be to play as a senior member and contribute to the team's success.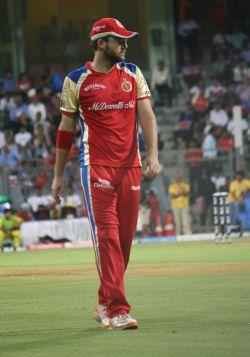 "Hopefully, the senior guys like me, AB (de Villiers) and Chris Gayle can support him (Kohli)," said Vettori.
Heaping praise on Kohli, Vettori said the Indian batsman is incredibly committed, which is an outstanding quality to be a leader.
"He gives everything and a lot of guys follow that. It is natural transition. I think he is going to do a great job."
On Anil Kumble's joining Mumbai Indians as the chief mentor, Vettori said, "Everyone has to move on and unfortunately he is not here this year (with the RCB)."
Asked about the latest condition of his Kiwi teammate Jesse Ryder, Vettori said that he was improving every day and hoped to take on to the field soon.
"Everyone knows Jesse. Everyone wants to see him there. Best wishes to him," said Vettori.
Photograph: Hitesh Harisinghani/Rediff.com