Delhi Daredevils opener David Warner lavished praise on teammate Umesh Yadav, whose miserly 18th over proved crucial in the team's 15-run win over Pune Warriors, saying the pacer would be an asset for India in the upcoming Champions Trophy in England.
-IPL PHOTOS: Pune Warriors vs Delhi Daredevils
-IPL: Pune lose to Delhi, slip to bottom of table
"I think Umesh has been bowling very well. His death bowling was sensational and has come back very well from an injury and that augurs well for India in the upcoming Champions Trophy," Warner said.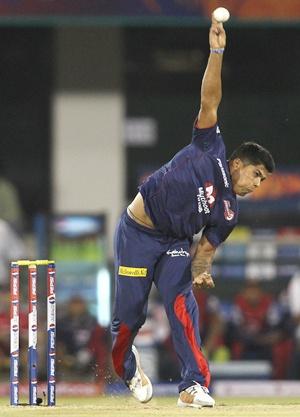 The man-of-the-match made no bones about the fact that every match from now is a virtual "semi-final" for the Daredevils.
"We know that each game from now is a 'semi-final' for us. We have to keep on smiling, come back with a lot of firepower, passion, determination and also hope that some of the other results go our way," Warner said.
Having scored his third half-century of the tournament, Warner wants to keep up the good work.
"I want to continue in this good form and help the team in winning. Basically, I am batting down the order as Mahela wanted a bit of solidity in the middle-order.
"Again, if the pitches are fast and bouncy like the one in Dharamsala, I might again open the batting. Just like in the Champions Trophy, I opened the innings as the pitches there suited my style of batting."
It's now customary to ask each and every Daredevils player about his experience of interacting with team mentor Sir Vivian Richards and Warner wasn't an exception.
"Sir Viv, the legend of the game. I can probably relate to him as I am also a flamboyant player who likes to play his shots. He was a tough man and had that swagger. He always tells me to be yourself.
"He (Viv) told me that 'you are here because of what you are. Therefore nothing should change you'. For international guys like us, it is important to maintain that level head and Sir Viv brought that spark, energy and passion."
For someone, who sets high standards on the field, Warner wasn't particularly happy with team's fielding effort.
"We have been leaking a lot of runs but we should have taken the catches given by Luke Wright and Yuvraj. The fielders should have anticipated and taken those catches," he said.
Warner also had encouraging words for the newly-built Shahid Veer Narayan Singh international Stadium.
"Obviously these are big boundaries (85 meters on the side and 72 metres straight). But there was a bit of dew and the spinners found it hard to grip the ball. However, having a stadium in Raipur will definitely help in promoting the game in the state," he concluded.
Photograph: BCCI