Former India captain Ravi Shastri has said while Vivian Richards was best batsman of his era, Sachin Tendulkar and Brian Lara have been the two most extraordinary players in the modern generation.
"Viv Richards was the best batsman in my era by a long way. In the modern era, Tendulkar and Lara have been the two standout players," said Shastri.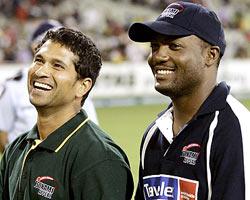 Having had the experience of sharing the dressing room with both Sunil Gavaskar and Tendulkar, Shastri said while the former was technically more sound, the latter showed ability to comfortably adapt in any format.
"Gavaskar and (Rahul) Dravid have been the best technicians. Tendulkar has been the best all-round batsman who has adapted to all formats of the game," Shastri, who will turn 50 on Saturday, said.
© Copyright 2021 PTI. All rights reserved. Republication or redistribution of PTI content, including by framing or similar means, is expressly prohibited without the prior written consent.