Kolkata Knight Riders coach Trevor Bayliss has come down heavily on his batsmen, saying their failure to post decent totals in the ongoing season of Pepsi IPL has put the bowlers and fielders under a lot of pressure.
Defending champions KKR lost their seventh match in 10 games in IPL 6 as they went down to Delhi Daredevils on Wednesday night in a low-scoring affair at the Shaheed Veer Narayan Singh International Stadium in Raipur.
"Batting has not been very good in most of the innings. Low totals put a lot of pressure on bowlers and fielders," Bayliss said.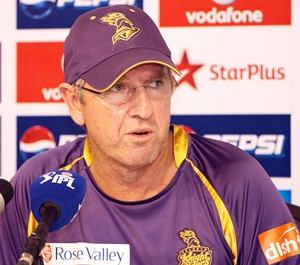 Stressing on the need to improve the team's batting, Bayliss said, "We would try to get back the best players in the top order. We also need to give confidence to the middle order so that the team can score 150 plus, a competitive total in the game."
Bayliss admitted that poor fielding has also proved fatal for his team in the match against Delhi Daredevils.
"It was a tough game as we needed to take wickets while defending a low total. I was certainly disappointed with dropped catches. Those should have been taken," he said.
Asked what would be KKR's strategy in the remaining six league matches, Bayliss said, "So far it hasn't been the best season for the team. Few more games are left and the strategy will be to score more runs and take more wickets."
Also read:
- IPL: Gambhir, Kallis and the diamond duck brigade
- IPL PHOTOS: Delhi Daredevils vs Kolkata Knight Riders
- 'I don't think Yusuf Pathan's performance is frustrating'
Photograph: BCCI