S Sreesanth's lawyer Deepak Prakash maintains that the Rajasthan Royals pacer is innocent and was picked up wrongly by the police.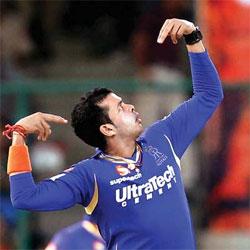 "The evidence against Sreesanth is not substantial," said Prakash.
"The towel tucked in Sreesanth's trousers is mere coincidence.
"If you remember, it was a 4pm match and he would need a towel at that time (to wipe of the dew).
Also, if you look back at videos of past One-dayers, Sreesanth always has a towel tucked in his trousers," he added in the pacer's defence.
Prakash also said he had a word with Sree, who rejected the spot-fixing claims.
Former India pacer Sreesanth and his Rajasthan Royals teammates Ajit Chandila and Ankeet Chavan were arrested by the Delhi Police on Thursday on charges of spot-fixing during the ongoing IPL. The trio were later remanded to police custoday for five days.