'There are many options available. One is that BCCI runs the two (suspended) teams and responsible people will be deputed for the job'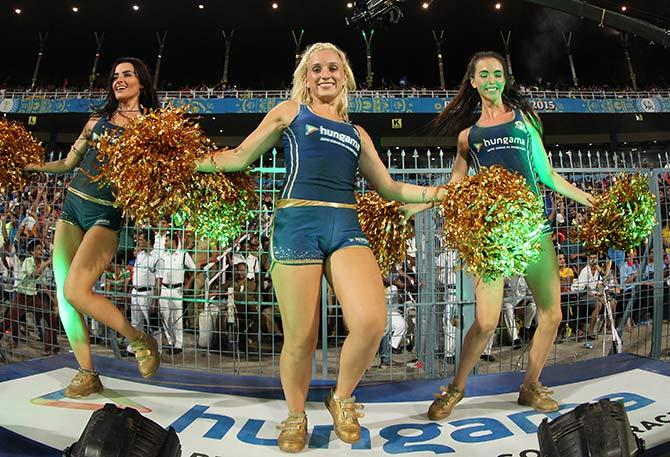 Mumbai Indians cheerleaders performing during the final of the Pepsi IPL 2015. Photograph: BCCI
The controversy-ridden Indian Premier League remains a "robust" product, declared its chairman Rajeev Shukla on Thursday, insisting that the cash-rich Twenty20 extravaganza will come back stronger with a minimum of eight teams.
Among a host of questions, he was asked about the future of the IPL and number of teams it will have after the two-year suspension of Chennai Super Kings and Rajasthan Royals.
"We are always concerned about IPL and, let me assure you, the next edition will be a bigger success. IPL is a robust product and this judgement (suspension of teams) should not affect IPL as a product. The idea is to have the tournament in full format with a minimum of eight teams. We can't hold the event with six teams," said Shukla.
He said there are many options available for the road ahead for the IPL, something he will discuss with the Governing Council in Mumbai on Sunday. One is running the two suspended teams with BCCI control.
"There are many options available and we will discuss them all in the meeting on Sunday. One option is that BCCI runs the two (suspended) teams and responsible people will be deputed for the job," he said.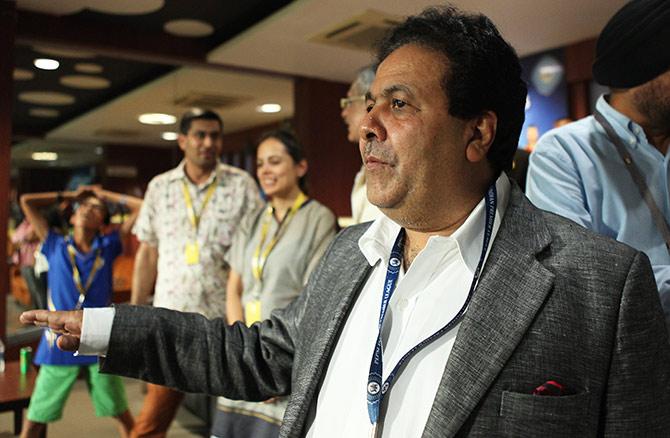 Rajeev Shukla during the final of the Pepsi IPL 2015. Photograph: BCCI
Asked about the possible conflict of interest if the Board of Control for Cricket in India decides to take control of Chennai Super Kings and Rajasthan Royals, Shukla replied: "There is no question of any conflict of interest. BCCI is anyway supervising the IPL. There are two main areas: one is players' auction, which is transparent, and the other is managing teams.
Credible people can be deputed to do the managing job."
On the return of the Kochi franchise, he said, "The arbitrator has given the verdict and we are going to appeal after seeking legal opinion. I can't say anything more as the matter is under litigation."
Shukla refused to comment when asked about Chennai Super Kings and Rajasthan Royals being banned for life.
He went on to say that the Governing Council will deliberate on the Lodha Committee report on Sunday.
"We will deliberate on the report in the meeting. After that a sub-group will be constituted and it will study the report. Based on that, we will decide how the report will be implemented."