On Thursday, the Delhi Police had arrested Rajasthan Royals cricketers S Sreesanth, Ajit Chandila and Ankeet Chavan as well as 11 bookies allegedly involved in spot-fixing. Here are the excerpts of tapped conversations between bookies and Rajasthan Royals cricketers.
The first conversation was before a match between Pune Warriors and Rajasthan Royals on 5 May allegedly between player Ajit Chandila and a bookie Amit:
Chandila: Yes, tell me brother. Let me go. I will give the signal. Let the first over go. I will see.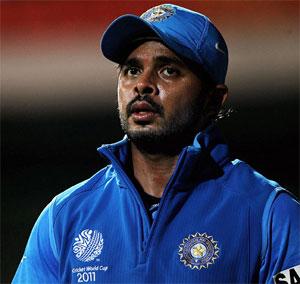 Amit: Do the first over with confidence and with same confidence do the second over for us.
Chandila: Okay, okay. I will do.
Amit: What will be your signal?
Chandila: I will pull my both T-shirts up and down and will then look up before starting the over.
In this over, Chandila, however, forgot to give the signal but allegedly gave away 14 runs as promised.
"This led to a lot of arguments and demand for return of money (Rs 20 lakh) advanced to him. Another Rs 20 lakh was to be given after the match. Chandila had to return the money,"Delhi Police Commissioner Neeraj Kumar told reporters.
--
The second conversation was allegedly between Sreesanth's close friend Jiju Janardhan and a bookie Chand before 9 May match between Rajasthan Royals and Kings XI Punjab. Sreesanth was to give away 14 runs in the second over he bowled:
Chand: What will be the signal?
Jiju: I have told him. He will not do any thing which is unusual. He will tuck in a towel before bowling the second over.
Chand: Brother please advise him to give us some time before starting the over as we can start our booking.
--
The third conversation was between players Chandila and Amit Chavan before yesterday's match between Rajasthan Royals and Mumbai Indians. Chandila was not playing and allegedly "motivated" Chavan convincing him to give at least 13 runs in his second over:
Chavan: I am outside.
Chandila: Okay. Should I say yes?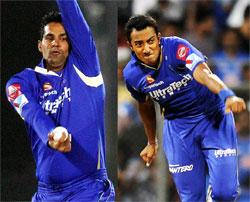 Chavan: Yes, but how much?
Chandila: They are saying 12.
Chavan: No, I don't think that's possible. It will be too much.
Chandila: I have given them assurance. It will be done. Should I say yes?
Chavan: Ok. say yes
Chandila: I have told them 60 (lakh) for one over.
Chavan: Yes ok. I will move my wrist band as an indication.
Police said that in a later call, it was decided that Chavan will give away 14 or more runs whenever he bowls his second over. One of them said that they will talk about further details in BBM.
© Copyright 2021 PTI. All rights reserved. Republication or redistribution of PTI content, including by framing or similar means, is expressly prohibited without the prior written consent.