Unfazed by a Bombay high court order, which declared the Board of Control for Cricket in India's probe into the IPL spot-fixing scandal illegal, a defiant N Srinivasan will chair Friday's working committee in Delhi.
The crucial meeting will mark Srinivasan's return as BCCI president after nearly two months since stepping aside pending an internal inquiry into the spot-fixing episode that rocked the sixth edition of the Indian Premier League.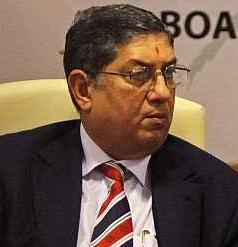 BCCI secretary Sanjay Patel made it clear that Srinivasan will chair the meeting, putting an end to the suspense over who will preside at the conclave, which will discuss the legal implications of the high court's order and chalk out future course of action.
- Niranjan Shah calls for fresh spot-fixing probe panel
"He (Srinivasan) is the BCCI chief and he has already started working. There is no confusion as to who will chair tomorrow's working committee meeting. Nobody, till now, has forced Mr Srinivasan to resign," Patel said.
Srinivasan, however, refused to speak to the media on arriving in Delhi.
"Will you allow me to go to my car? I am entitled to go; allow me to go. I just got hit by this camera. You cannot hit me like this with the camera. It's not okay with me," said Srinivasan, before entering his waiting vehicle.
According to a BCCI source, the working committee will decide whether to immediately appeal against the verdict in the Supreme Court or wait till the police completes its probe. It could also explore the option of forming a new committee to re-investigate the scandal.
Confusion over Srinivasan's presence at the meeting prevails following the Mumbai high court's order.
Hearing a Public Interest Litigation, filed by the Cricket Association of Bihar, a bench, comprising justices S J Vazifdar and M S Sonak, declared the probe panel "unconstitutional and illegal".
It said N Srinivasan, whose son-in-law Gurunath Meiyappan faced betting charges, had a role in forming the panel and, thus, there was a conflict of interest.
The panel, comprising retired Tamil Nadu high court T Jayaram Chouta and R Balasubramanian had given Chennai Super Kings, its team principal Meiyappan and Rajasthan Royals' Raj Kundra a clean chit earlier, saying it found not evidence of wrong-doing by them.
Image: N Srinivasan