Arrested Indian pacer S Sreesanth, cricketer Ajit Chandila and two bookies were on Sunday remanded to two more days of police custody by a Delhi court in connection with the Indian Premier League (IPL) spot-fixing scandal case.
Metropolitan Magistrate (MM) Anuj Agagrwal sent Sreesanth, Chandila and two arrested bookies Chandresh Patel and Ashwani alias Tipu to police custody till May 28 after special cell of Delhi police said their custodial interrogation was required to unearth the entire conspiracy.
- Hotel CCTV footage shows Sreesanth, Chavan meeting bookie
The court, however, rejected the police's plea seeking two more days of interrogation of arrested accused Babu Rao Yadav, a former Ranji player, and remanded him to judicial custody till June 4.
Besides these five accused, cricketer Ankit Chavan and three more bookies -- Jiju Janardhan, Deepak Kumar and Manan Bhat -- were also sent to judicial custody till June 4 by the court after the police said they were no more required for any further custodial interrogation.
These nine accused were produced before the court after expiry of their five days of police custody.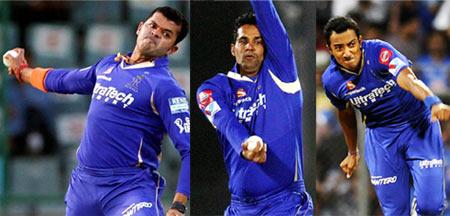 Delhi police has so far arrested 19 accused in connection with the spot fixing scandal case. Besides these nine accused, who were produced before the court on Sunday, arrested bookie Mohd Yahya is presently in police custody while other nine accused are in judicial custody till June 4.
During the hearing, Sreesanth and Chavan also moved bail applications and the court fixed May 28 for arguments on their plea.
Chavan has sought bail on the ground that his marriage is scheduled on June 2.
Seeking extension of Sreesanth's police custody by two more days, public prosecutor Rajiv Mohan said that they need to interrogate him about the whereabouts of one Abhishek Shukla whose name has cropped up during the investigation.
The prosecutor said during interrogation, they have come to know that in one of the intercepted conversations, Shukla had asked someone to clean Sreesanth's hotel room immediately after the cricketer was arrested.
The prosecutor told the court that Sreesanth has disclosed Shukla's name and they have also come to know that some of the articles were removed from the cricketers hotel room after he was arrested.
"During Sreesanth's interrogation, he had disclosed the name of one Abhishek Shukla who was attached to him and in one of the intercepted calls, one person was asked to clean Sreesanth's room. Some of Sreesanth's articles were removed from the hotel room where he was staying immediately after his arrest," Mohan said.
"The articles purchased by Sreesanth with the betting money have been recovered and the bills of the parties given by him were paid by Abhishek Shukla as his (Shukla's) pan card number was mentioned in the bill," he said adding they need Sreesanth's custody to quiz him about Shukla's whereabouts and his role, if any, in the spot fixing.
Mohan also told the court that police is having the video recording of the match which was allegedly fixed and Sreesanth and Chandila had given the same signals to the bookies which they has fixed earlier.
Advocate Vishal, who appeared for Sreesanth, opposed the police's plea saying the cricketer has been in their custody for last 10 days and police have nothing more to interrogate.
"They (Delhi Police) just require my (Sreesanth's) custody to show that they are ahead of Mumbai Police and that is why they are raising such issue," the lawyer said.
Seeking Chandila's custody, the police said his name has come up in majority of the conversations between the accused players and bookies and he has played a "widespread role" in the entire conspiracy.
The prosecutor said out of a total of Rs 70 lakh, police has till now recovered only Rs 20 lakh and further Chandila's custody is required to recover the remaining Rs 50 lakh.
He also said they are yet to receive some details from the Financial Investigation Unit of the Ministry of Finance and they need Chandila's custody to confront him with the same.
The police also said they had on Saturday received some details about Chandila's bank account and his transactions and they need to confront him with the same.
Chandila's lawyer opposed the plea saying his client has been falsely implicated and the police is not arresting the main conspirators who are behind the betting scandal.
Seeking two more days of police custody of bookie Ashwani, the prosecutor said on the basis of his disclosure statement, another bookie Mohd Yahya was arrested and they need to arrest one of their associates Amir, who is a connecting link between the bookies and the Dubai-based underworld.
"Amir has a major role in the whole scandal and we want to interrogate Ashwani to know about Amir's whereabouts," Mohan said adding they are taking help of cyber experts in cracking passwords of Ashwani's e-mail accounts through which the money transactions were being done.
Ashwani's counsel also opposed the police's plea saying his client was not required for interrogation as the cyber experts are already involved in cracking the passwords of Ashwani's e-mail accounts.
The police said they need Patel's custodial interrogation as he was a part of the conspiracy and was in regular contact with Yahya and they need to confronted him with Yayha.
Regarding Babu Rao Yadav, the police said that previously he was in contact with players of two foreign cricket teams and they need to interrogate him to know whether he had fixed any overseas players in the IPL.
The court, after hearing the arguments from the police as well as the advocates appearing for the accused persons, sent Sreesanth, Chandila, Patel and Ashwani to police custody till May 28.
It, however, rejected police's plea for further custodial interrogation of Yadav and remanded him to judicial custody till June 4.

During the proceedings, the court remanded four other arrested accused to judicial custody saying, "Accused Ankit Chavan, Jiju Janardhan, Deepak Kumar and Manan Bhat are produced from police custody. Case diary has been produced. These four accused are remanded to judicial custody till June 4."
Sreesanth, Chavan and Chandila, who all were playing for the IPL's Rajasthan Royals franchise, were arrested in Mumbai by Delhi police for their alleged involvement in spot-fixing in IPL matches for payments of up to Rs 60 lakhs for giving away pre-determined number of runs in an over.
These three players, who have been suspended by the BCCI, and the others arrested have been booked under section 420 (cheating) and 120-B (criminal conspiracy) of the IPC.
On May 21, the police had informed the court that section 409 of the IPC, which deals with criminal breach of trust and entails a maximum of life imprisonment along with fine, has been invoked against all the accused in the case.
The police had said they had added section 409 IPC as the agreement concerning IPL is a tripartite agreement between BCCI, Rajasthan Royals and the player and the agreement was an exclusive contract.
Regarding Sreesanth and other two cricketers, police had said that they had used various signs like putting towel in pocket for a fixed over and exercising before the over to give time to bettors to place their stakes.
Photograph: BCCI
© Copyright 2021 PTI. All rights reserved. Republication or redistribution of PTI content, including by framing or similar means, is expressly prohibited without the prior written consent.