Bharat Petroleum Corporation Ltd has suspended tainted cricketer Shantakumaran Sreesanth, who was arrested by the Delhi police on charges of spot-fixing in the IPL.
The speedster, who was posted in the company's marketing division at Irumpanam near Kochi as assistant manager, was earlier dropped from the Kerala lottery advertisement.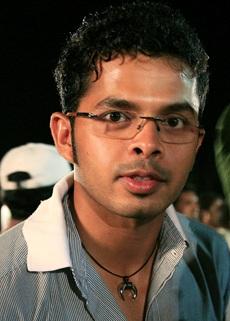 Meanwhile, the disgraced cricketer was taken to Jaipur on Tuesday as part of the probe, even as Rajasthan Royals chairman Ranjit Barthakur met with senior police officials in Delhi, a day after the IPL franchise filed a complaint against three of their erring players.
Sources said Sreesanth was taken to Marriott Hotel in Jaipur and brought back as he was to be produced before a court following expiry of remand.
They refused to elaborate on the outcome of the visit, including whether the police had seized any material.
Rajasthan Royals had on Monday filed a police complaint against Sreesanth, Ajit Chandila and Ankeet Chavan, who were arrested last week.
In its complaint, the franchise alleged that the three players were indulging in unfair means and breached their contract.
The police have added this and two complaints from the public into the already registered case.
Delhi Police Commissioner Neeraj Kumar also went to the Special Cell office and was briefed about developments in the case.
At least 18 people -- three IPL players, four former players and 11 bookies and their assistants -- have been arrested since last Thursday in connection with the scandal that rocked the cricketing world.
Image: Shantakumaran Sreesanth
Photograph: Getty Images
© Copyright 2021 PTI. All rights reserved. Republication or redistribution of PTI content, including by framing or similar means, is expressly prohibited without the prior written consent.