A 32-year-old man, impersonating as an official of the Mumbai police, was apprehended on Thursday as he tried to enter the house of Shantakumaran Sreesanth, at Edapally, Kochi, to 'interrogate' the India pace bowler's parents in connection with his arrest in the IPL spot-fixing episode, police said.
The man, Neelash Ramachandran Jagtap, alias Sachin, told security guards at the cricketer's house he was from the Mumbai police and wanted to question Sreesanth's parents.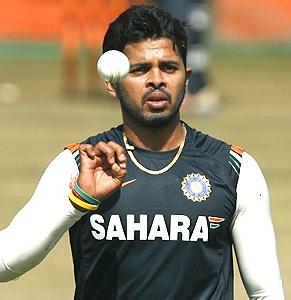 However, he told the parents from near the gate that he was from the Board of Control for Cricket in India and close to Union minister Sharad Pawar and could help their son.
Suspecting his motives, they asked him to wait outside.
The guards, acting on instructions from police to inform them in case anyone wanted to meet the parents, did so.
Police rushed to the cricketer's residence, arrested Jagtap and registered a case against him on charges of impersonation.
They said the Hindi-speaking man, who had arrived from Mumbai two days ago, had a Mumbai-Kanyakumari rail ticket with him.
The IPL was dealt a massive blow when a special cell of the Delhi police arrested Sreesanth and his Rajasthan Royals teammates -- Ajit Chandila and Ankeet Chavan -- last week for allegedly indulging in spot-fixing in at least three IPL matches as per arrangements with bookies having underworld connections abroad.
Image: Shantakumaran Sreesanth
© Copyright 2021 PTI. All rights reserved. Republication or redistribution of PTI content, including by framing or similar means, is expressly prohibited without the prior written consent.