Ankeet Chavan, who had earlier confessed to his involvement in the spot-fixing saga in IPL 6, has claimed that two more players were also approached by bookies, sources said on Friday.
Chavan, who is currently being interrogated by the special cell of the Delhi police, told investigators that two batsmen were also approached, and one of them is a foreign player.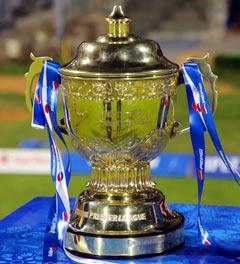 Chavan is believed to have confessed to his role in the IPL spot-fixing episode. He allegedly accepted a bookie's offer to give away a certain number of runs during Rajasthan Royals' match against Mumbai Indians, in Mumbai.
The Delhi police is now interrogating all three players -- S Sreesanth, Ajit Chandila and Chavan -- separately.
Chandila hasn't confessed to his role or making a mistake, but Sreesanth and Chavan are believed to have told the police that they were involved.
Former India pacer Sreesanth and his Rajasthan Royals teammates Chandila and Chavan were arrested by the Delhi Police on Thursday on charges of spot-fixing during the ongoing IPL.
The trio were later remanded to police custody for five days.
Photograph: BCCI