Delhi Police sought inputs from former BCCI secretary Sanjay Jagdale and IPL CEO Sundar Raman on the tripartite agreement between BCCI, IPL teams and players as it intensified efforts to locate nine more bookies suspected to be involved in the IPL spot-fixing scandal.
Jagdale, who had resigned as BCCI secretary on Friday, along with Raman were called to Delhi to get an idea about BCCI's role in the agreement between the IPL team Rajasthan Royals and cricketers as the pact is a tripartite one, a senior police official said.
The police team went to Maurya Sheraton hotel where they sought information from the cricket officials.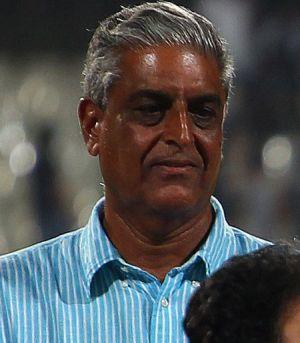 Rajasthan Royals had filed complaint against the three arrested players -- Sreesanth, Ajit Chandila and Ankit Chavan charging them with breach of contract.
"They (Jagdale and Raman) were not called for questioning. We want to understand certain things," a senior police official said.
"We have already spoken to two parties of the agreement -- the three arrested players and Rajasthan Royals officials. We want to take the version of the third party BCCI," the official said.
Jagdale, who resigned from the BCCI post, was called as he was the signatory on behalf of the cricket body.
The official said they were searching for eight-nine bookies who are allegedly involved in the scandal.
He also said a team of lawyers, including Dayan Krishan, who appeared for Delhi Police in December 16 gangrape case, and Rajiv Mohan were examining all the legal aspects of the case.
Twenty-six people, including the three players, have been arrested since May 16 from various places in the country after the IPL spot-fixing scandal came to light.
Photograph: BCCI