Out of favour India opener Gautam Gambhir says the recent spot-fixing episode will not dent the image of the IPL.
"A handful of people who do something wrong doesn't carry the image of the entire sport. There are still millions of people who want to go out there and play the game and represent the country," said Gambhir, who captained Kolkata Knight Riders in the just-concluded sixth season of the Indian Premier League.
"If some handful of people do something wrong that doesn't mean cricket is dirty. There are lot of people who want to do well," he added.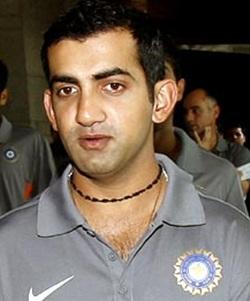 Gambhir agreed that the IPL is serious business but felt steps like banning cheerleaders from the tournament is not the solution to eradicate corruption from the event.
"For me everything depends on individual. You can't stop an individual from doing something wrong. It has to come from within," he told NDTV.
"IPL is a serious competition and not what you do off the field. When I joined KKR, my only thinking was to see the team do well on the field.
"But if a handful of people think IPL is more to do with off-field activities, it's the wrong way of approaching IPL. There are a handful of people who think that and you can't control them. The only way out is not to make them part of IPL," the left-hander added.
Gambhir was ignored for the ongoing Champions Trophy is England because of poor form.
Asked how difficult will it be to return to the Indian team considering the good showing of the opening duo of Shikhar Dhawan and Rohit Sharma in the Champions Trophy, he replied, "For any sportsperson, it's not about how difficult to make a comeback.
"It's about going out there and keep scoring runs, because, as a batsmen, that's what you play cricket for and that's what gives you maximum happiness. It's about keeping things simple."
Gambhir brushed aside Manoj Tiwary's view that 2012 champions Kolkata Knight Riders faltered in this edition of the IPL because of lack of camaraderie within the team.
"I don't know what Manoj Tiwary said; it's his personal view. But when you don't play good cricket this is what you get. When you don't play as a team this is what will happen.
"This year we were not consistent enough in all departments of the game and I an not someone who will hide behind the bush."
© Copyright 2021 PTI. All rights reserved. Republication or redistribution of PTI content, including by framing or similar means, is expressly prohibited without the prior written consent.