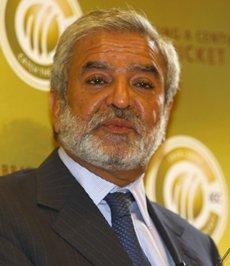 Former International Cricketing Council president Ehsan Mani has urged the governing body to safeguard the sanctity of cricket following the spot-fixing scandals that has surrounded the Indian Premier League.
The spot-fixing scandal, involving three Rajasthan Royals players -- S Sreesanth, Ankeet Chavan and Ajit Chandila -- has added weight to the growing concerns of corruption plaguing the game, the Express Tribune of Pakistan reports.
The report further said that with a corruption scandal surfacing for the second successive time at the lucrative IPL, the efficacy of the ICC and its Anti Corruption and Security Unit unit to curb the menace has also came under question.
However, Mani believed there was not much the ICC or ASCU could do, saying the matter was more of a responsibility of the Board of Control for Cricket in India, although he added that the ICC should work with the BCCI and the Indian government so that they can tackle the main issue, the bookies who tempt these players to get involved in spot-fixing.
Mani also claimed that the main bookies are from India, citing the example of the Pakistani player Danish Kaneria spot-fixing case in which an Indian bookie was involved.
Defending its stance, the ICC has said it will provide full support to the BCCI and Delhi police during the investigation.
According to ICC Chief Executive David Richardson, the ICC has stood by its zero-tolerance approach by taking measures to tighten vigilance, strengthen their anti-corruption codes and increase player education programmes as well as offering strict penalties to those found guilty of illegal conduct.
Richardson further said that it is disappointing to see that despite the extensive education programmes delivered by the ICC and the BCCI, there still appears to be some players who remain vulnerable to temptations, although he added that the real battle is against those individuals who are preying on the susceptible players.