Delhi Police has asked hotels in Mumbai, Chandigarh, Kolkata and Hyderabad to provide CCTV footage to scan meetings of the three arrested cricketers with bookies in connection with the IPL spot-fixing scandal.
Police is also planning to seek permission for collecting voice samples of the players -- S Sreesanth, Ajit Chandila and Ankeet Chavan -- arrested last Thursday from Mumbai along with 11 bookies.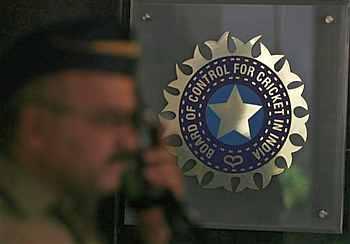 Sources said that the police have asked certain hotels in Mumbai, Chandigarh, Kolkata and Hyderabad to provide CCTV footage to scan the meetings players had.
As per the FIR lodged with the Special Cell of Delhi Police, a case of cheating and criminal conspiracy was registered on the complaint filed by Inspector Badrish Dutt, who died under mysterious circumstances a day after filing it.
Dutt, an expert in intercepting calls, had tapped over 100 hours of telephonic conversations that led to unraveling of the scandal, the sources said.
In the FIR registered on May 9, no player or bookie was named.
"Match fixers and bookies from Delhi, Maharashtra, Gujarat, Punjab etc and some players participating in this Indian Premier League tournament have joined together to indulge in spot and match-fixing," it said.
The FIR said that the Special Cell received information in the "third week of April that certain members of the underworld" were involved in "some sort of fixing" in the ongoing IPL with active participation of some unidentified conduits based in Delhi.
"It was also revealed that these conduits are contacting cricket players who have been recently engaged by IPL sponsors at a very high price for their respective teams with a view to stage managing some matches for making windfall gains through several bookies, who facilitate illegal gambling in the sport.
"It had also been informed that players who will be 'fixed' will be paid huge amounts to under-perform during decided bowling overs/spells," the FIR said
Photograph: Arko Datta/Reuters