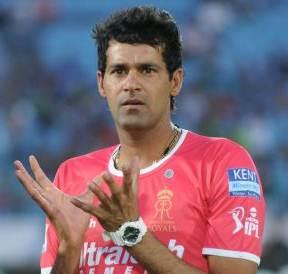 Rajasthan Royals players Ajit Chandila and Siddharth Trivedi, accused in the IPL 6 spot-fixing and betting scandal, appeared before the Justice Mudgal Probe Committee on Thursday.
Former IPL Commissioner Lalit Modi's counsel, Mehmood Abdi, also appeared before the Committee.
"The Committee on 5th December 2013 interacted with Mr Mehmood Abdi, constituted Attorney for Mr Lalit Modi, assisted by Mr Abhishek Singh, Advocate and Mr Sandeep Singh Hora, Advocate. The Committee also interacted with players Ajit Chandila and Siddharth Trivedi," Board of Control for Cricket in India treasurer Anirudh Chaudhry said, in a statement issued on direction of the committee.
"The Committee on 4th December 2013 interacted with Ms Sharda Ugra, Senior Editor – ESPNcricinfo, officials of Delhi Police, Mr Pradeep Magazine, Senior Journalist, Hindustan Times and M Aniruddh Bahl, journalist," the statement added.
The Committee will next meet in Mumbai on December 6, 7 and 8 and interact with the Mumbai Police, officials of ICC-ACSU, RTI activist Naresh Makwani and others.
Former India pacer Shantakumaran Sreesanth, Chandila and Ankeet Chavan, besides 26 others, were arrested in May following police investigations into the scandal.
The Justice Mudgal Committee has already met Chandila's tainted teammates -- Sreesanth and Chavan -- who were handed life bans by the BCCI.
Trivedi has also been banned for one year by the BCCI. But the Board has not yet completed disciplinary proceedings against Chandila. His case is still pending with the BCCI and although he has been provisionally suspended, there is no ban yet on him.
Image: Ajit Chandila
Photograph: BCCI
© Copyright 2021 PTI. All rights reserved. Republication or redistribution of PTI content, including by framing or similar means, is expressly prohibited without the prior written consent.