Chennai Super Kings' performance in the Indian Premier League is under heavy scrutiny by the police after finding evidence that team principal, Gurunath Meiyappan, had placed bets on three matches.
The police have found out that Meiyappan had placed bets of up to Rs 1 crore on each of these games, but they are still not sure if any of these games was fixed.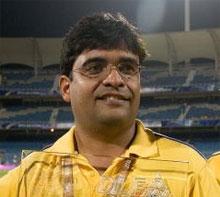 Police sources told Rediff.com that they have not yet found evidence about any fixing or spot-fixing connected to Meiyappan, but are on the trail of bets he has placed on these games.
According to Vindoo Dara Singh's confession, the police said, Meiyappan had sought the actor's assistance to place the bets.
Going by the statements made by Vindoo, Meiyappan was heavily into betting since the past four years and a majority of the bets were placed on IPL matches.
Sources further state that the amount involved in the betting went up considerably from Rs 20 lakh to Rs 1 crore.
The Bombay police is due to question Meiyappan on Monday since the Chennai Super Kings are scheduled to play the IPL final on Sunday.
"We are not yet viewing him as an accused in the case, and a call on his role in this entire episode will be taken only after his questioning," police sources informed.
During the probe, police also learnt that Vindoo had placed bets on behalf of several high-profile personalities. The police also found that the actor allegedly used the services of two high-profile models to get close to some cricketing bigwigs after which he placed bets on their behalf, for which he received a considerable amount of commission.