A First Information Report was registered at Jyotinagar police station, in Jaipur, on Friday, to investigate allegations of match-fixing by Board of Control for Cricket in India president and Managing Director of India Cements Ltd N Srinivasan, and his son-in-law, Chennai Super Kings team principal Gurunath Meiyappan, for conspiring and executing the fixing of an Indian Premier League match on May 12, between Chennai Super Kings and Rajasthan Royals at the Sawai Man Singh stadium in Jaipur.
The FIR was filed upon direction of Jaipur Additional Chief Judicial Magistrate Satish Chandra Godara, a media statement from Mehmood Abdi, president Sri Ganganagar District Cricket Association, Rajasthan, read.
Abdi filed a complaint in the court of appropriate jurisdiction in Jaipur on October 26, and on October 28 the learned court of the additional Chief judicial magistrate-8 issued directions to the Jaipur police to investigate the allegations.
In his complaint, Abdi inter alia alleged that Srinivasan and Meiyappan had used their substantial influence to ensure that Chennai Super Kings underperform, in order to gain financial benefits through illegal match-related betting activities. He alleged that several individuals' integrity was compromised due to them being under the employment of India Cements, which provided the accused the necessary wherewithal to influence on-field proceedings in that particular match.
Furthermore, the complaint also alleged that pre-match rumours suggested that Chennai Super Kings would deliberately underperform and score around 130 to 140 runs to ensure a Rajasthan Royals victory.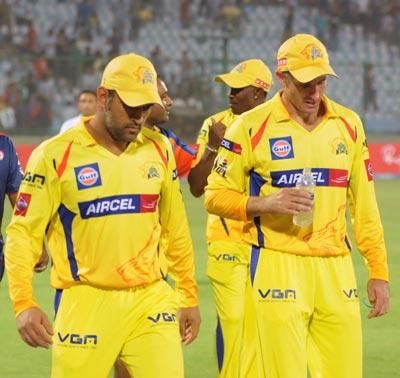 CSK scored 141 and Royals easily chased down the target in 17 overs. The pre-match betting rumour combined with the end result and the high level of influence that Srinivasan and Meiyappan exerted within the CSK ranks are stated as the primary reference points in the complaint filed by Abdi.
Abdi, in the media missive, said: "Important to note that Chennai Super Kings boast of some powerful hitters but not a single six was slammed during their innings, while Rajasthan Royals hit 9 sixes in their innings. The average score of Chennai Super Kings in IPL-6 was 188 runs, whereas in the Jaipur match they could aggregate only 140 runs, which incidentally is the second lowest score by CSK in IPL season 6 at the Sawai Mansingh stadium.
"The credibility of the BCCI president and his son-in-law is further called into question through the public accusation of Srinivasan's son, Ashwin, of his father's involvement in betting and match-fixing. Former president of the BCCI, I S Bindra's revelations relating to the presence of a lady connected to a bookie with a CSK player during India's tour of Sri Lanka in 2010 and its eventual cover up by Srinivasan only adds question marks to the BCCI president's credibility. "Add to that the accusation that the BCCI president continually broke moral and governance norms by circumventing BCCI rules and appointing IPL match umpires unilaterally; some of whom are employees of India Cements, and there is enough reason to probe the complaint.
"The influence exerted by Mr. Srinivasan through his company, can be ascertained by the individuals on Indian Cements Ltd's payroll. Current Indian cricket team players, Mahendra Singh Dhoni, Murali Vijay, Dinesh Karthik and Ravichandran Ashwin are all employees of Mr. Srinivasan's Chennai-based organisation. India Cements also employ ICC's Players' representative L Shivaramakrishnan; M A Satish, Indian cricket team's Logistics manager; Prasanna Kannan, IPL's Chief Financial Officer, and match umpire S. Ravi."
Image: Chennai Super Kings players during an IPL 6 match
Photograph: BCCI