BCCI president N Srinivasan should thank the Almighty that Gurunath Meiyappan is not his son!
The ICC's constitution has a detailed documentation on the Code of Ethics for the custodians of the game in various countries and clauses which are considered as serious breach.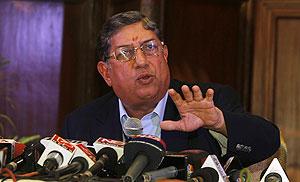 According to ICC's Code of Ethics, there is a specific clause pertaining to gambling, gaming and betting where a 'Director' or equivalent and his family members cannot indulge in any activity pertaining to "betting business" but there is no specific mention of son-in-law in that particular clause.
The clause 7.2 (d) of ICC's Code of Ethics states: "It is not permitted and a Director shall be in breach of this Code if a member of his immediate family (being a spouse, parent, sibling, son or daughter) has a controlling interest in a betting business, a substantial relationship with a betting business or is employed in the day to day operational control of a betting business."
If one goes by the clause, Meiyappan's arrest on charges of betting on IPL matches can't be called a breach of ICC code on Srinivasan's part.
At a media conference in Kolkata on Sunday, Srinivasan was specifically asked a question on whether Gurunath's arrest brings into question the violation of the caluse 7.2 (d), and he gave a half-hearted reply.
"If you are looking at ICC rules. I've to see it myself. I've not done anything wrong. We will see and examine it as you brought it to my attention. It's for the ICC to look into it," Srinivasan said.
Photograph: Reuters
© Copyright 2021 PTI. All rights reserved. Republication or redistribution of PTI content, including by framing or similar means, is expressly prohibited without the prior written consent.