Gurunath Meiyappan arrived in Mumbai late Friday evening for questioning by the Mumbai police's crime branch following allegations of his involvement in betting in the Indian Premier League.
Joint-Commissioner of Police (crime) Himanshu Roy said the Chennai Super Kings owner was not detained at the Mumbai airport and would be questioned later on Friday night.
Accompanied by his lawyer, the 35-year-old CSK honcho arrived from Madurai by a chartered flight and was taken in a car, piloted by a police vehicle carrying crime branch personnel, a couple of hours after the police's deadline for his personal appearance ended at 1700 hours.
Roy said the crime branch would question him in the light of what actor Vindoo Randhawa, arrested for his alleged links with bookmakers, had said during his custodial interrogation, and what the police had come to know in the course of its investigation.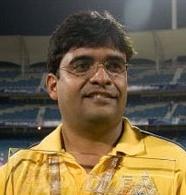 Asked if Meiyappan would be arrested after questioning, he replied, "Nothing has been decided. It is not going to be a pre-conceived decision. We will take a call only after questioning him."
Roy said Meiyappan had sent a communication saying it would not be possible for him to appear by the 1700 deadline set by the Mumbai crime branch in its summons on Thursday.
He said Vindoo and Meiyappan will also be brought face to face during the questioning and the latter's lawyer would not be allowed to be present during the proceedings.
Vindoo is believed to have admitted during interrogation that he placed bets on behalf of Meiyappan and even the CSK owner had lost Rs 1 crore in betting.
He is also believed to have said he himself had won Rs 17 lakh through betting in the ongoing IPL season 6 after losing in all previous seasons.
The Joint Commissioner said Vindoo was quizzed on Friday too and he mentioned names of some more bookies and those involved in betting.
Asked about the alleged involvement of Pakistani umpire Asad Rauf in the fixing scandal and whether the crime branch intended to grill him, Roy said, "We wish we could record his statement, but he left India three days ago."
Sources in the crime branch said it was suspected that Rauf, who was pulled out of the elite panel of umpires to officiate in the Champions Trophy by the ICC, received gifts from bookies to fix matches or pass on inside information that can be used for betting.
Apart from questioning Meiyappan about his alleged involvement in the betting scandal, Roy said he would also be quizzed about his suspected role in spot-fixing in IPL matches.
"We suspect Meiyappan gave inside information to Vindoo, who passed on those to the bookies," he said.
Image: Gurunath Meiyappan
Photograph: BCCI
© Copyright 2021 PTI. All rights reserved. Republication or redistribution of PTI content, including by framing or similar means, is expressly prohibited without the prior written consent.