In the wake of shocking allegations of spot-fixing in IPL, a new standalone law to deal with such "dishonest practices" in all kinds of sports will be enacted soon.
Announcing this in New Delhi on Saturday, Law Minister Kapil Sibal said the new law was favoured by Attorney General G E Vahanvati as activities like match-fixing or spot-fixing are not covered under the present laws.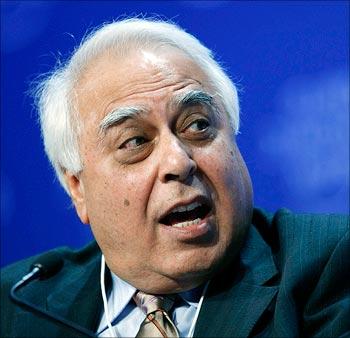 He told a press conference that the "dishonest practices like match-fixing and spot-fixing" need to be dealt with in a "holistic manner" and the new law was favoured instead of mere amendments to the Indian Penal Code.
"The first draft of the new law will be ready in three to four days," he said, adding it will then be sent to the Sports Ministry for further consultations and opinions of experts.
Thew new law will be as broadbased as possible and cover not only cricket but all kinds of sports. However, it will not have retrospective effect.
In the fresh legislation, there will be a definition of "dishonest practices" and will include any gesture or act which can change the course or outcome of a match or a tournament.
It will deal with corporates, bookies, criminals besides the players, including international players, he said.
Expressing confidence about the early enactment of the new law, Sibal said the Opposition is on board.
In this context, he mentioned that Leader of Opposition in Rajya Sabha Arun Jaitley met him yesterday and favoured such a law, saying states would not be able to check such activities which have national and international dimensions.
Photograph: Pascal Lauener/Reuters
Also Read
Meiyappan accused of colluding with bookies
Politicians demand resignation of BCCI supremo Srinivasan
© Copyright 2021 PTI. All rights reserved. Republication or redistribution of PTI content, including by framing or similar means, is expressly prohibited without the prior written consent.