Chennai Super Kings CEO Gurunath Meiyappan is a big name in Chennai and the police is gearing up to ask him several questions regarding the IPL spot-fixing and betting scandal which has rocked the cricketing world.
Even as the police approach him, they are careful to not even suggest that he is part of any fixing racket.
"The problem is the high stake bets in which he is allegedly involved and that is what we will question him about," an investigating officer told rediff.com.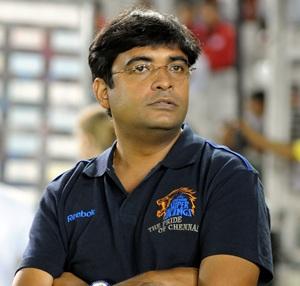 "Apart from the call records that we have with us to suggest that there was a lot of conversation between Vindoo Dara Singh and Meiyappan, there are other questions that we need to ask him," police officials informed.
They said some of the questions would include his connection to Vindoo Dara Singh; was he introduced to Ramesh Vyas (the bookie close to Vindoo)?; since how long has Vindoo been in touch with him?; why did he provide VIP tickets to Vindoo to watch the Chennai Super Kings game in Chennai; did he use his proximity to the Tamil film industry to get starlets and players acquainted?;does he know a bookie by the name Prashanth?; why was Prashanth present at some CSK parties?; why were some of the players seen with Prashanth's daughter at the after-party?; and, did Vindoo place any bets on his behalf?
Who is Gurunath Meiyappan?
He is married to BCCI chief and CSK co-owner N Srinivasan's daughter Rupa and is also the principal of the team.
He is also been listed as the vice-chairman of India Cements, owned by Srinivasan.
He is the son of AVM Balasubramaniam and his family owns the popular and high-profile AVM film and TV serial production house.
Image: Gurunath Meiyappan
Courtesy: Raj Kundra's Twitter account
Also read:
Spot-fixing: Police team in Chennai to question BCCI chief's son-in-law
Bollywood in IPL fixing? Vindoo Dara arrested