Audio intercepts of telephone calls was played by the Delhi police, on Tuesday, in a Delhi court to buttress its claim about the nexus between underworld don Dawood Ibrahim and bookies in the IPL spot-fixing scandal.
Objecting to the bail pleas of suspended Rajasthan Royal's player Ajit Chandila and seven others, Delhi police special cell played out a conversation between Dawood and Javed Chutani, allegedly the key link with Indian bookies.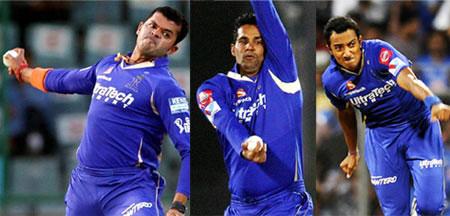 The police also informed Additional Sessions Judge Renu Bhatnagar that bookie Ashwani Agarwal was in constant touch with Javed, a close associate of Dawood and Chhota Shakeel.
However, during the proceedings, Ashwani's counsel refuted the allegations of the special cell, claiming he had no links with the underworld people.
The audio played out in the court, was purported to be of Dawood, who was heard discussing a deal worth Rs 8 million with Javed.
Dawood was also purportedly heard saying that the deal should not be less than Rs 8 million.
The telephonic conversation was played during the hearing of the bail pleas of Chandila, bookies Ashwani, Ramesh Vyas, Deepak Kumar, Sunil Bhatia, Firoz Farid Ansari, Jitender Kumar Jain and ex-Ranji player Baburao Yadav.
Meanwhile, the court has extended judicial custody of the accused till July 30.
The Delhi Police on May 16 had arrested three cricketers -- S Sreesanth, Chandila and Ankeet Chavan of Rajasthan Royal's -- on charges of spot-fixing.
The Delhi Police had slapped provisions of Maharashtra Control of Organised Crime Act (MCOCA) on Sreesanth, Chandila, Chavan and on 25 others in the case, alleging that they were acting under the command of Dawood and Chhota Shakeel.
In the same case, the court had on June 10 granted bail to Sreesanth, Chavan and 19 others on the ground of lack of evidence against them to be charged under MCOCA. At present, eight accused are in jail.
In another conversation played, on being asked by senior public prosecutor Rajiv Mohan, two bookies were discussing the flow of hawala money from Pakistan to India and vice versa.
In the call intercept purportedly of Ashwani and Sunil, signs were discussed by bookies for accused players, specifically Chandila, to indicate that they were fixing an over during a match.
Police also said that the accused should not be granted relief as they were following the command of Dawood and Chhota Shakeel and were running the syndicate at their behest in south and north India.
The police had opposed Chandila's bail plea, saying he was a "key conspirator" in the entire IPL spot-fixing case and was acting on the behest of a syndicate run by Dawood.
Referring to phone calls played out in court, Mohan said that Sunil was in touch with Chandila, who helped rope in other cricketers.