Suspended cricketer Ajit Chandila and two others, arrested for their alleged involvement in the IPL spot-fixing scandal, were granted bail by a Delhi court which said there were some "missing links" in the prosecution's case.
Additional Sessions Judge Dharmesh Sharma granted bail to Rajasthan Royals' player Chandila, ex-Ranji player Baburao Yadav and alleged bookie Deepak Kumar on a personal bond of Rs 50,000 with one surety of like amount each. Chandila was arrested on May 16.
The court, however, dismissed the bail pleas of five other arrested accused, saying the provisions of stringent law Maharashtra Control of Organised Crime Act (MCOCA) were applicable on four of them.
It rejected bail applications of alleged bookies Jitender Kumar Jain, Ramesh Vyas, Ashwani Agarwal, Sunil Bhatia and Firoz Farid Ansari.
While granting bail to the three accused, the court said Chandila's connection with the alleged organised syndicate was "too remote".
The court also pulled up the Special Cell of Delhi Police for some missing links into the probe of the case and directed the Delhi Police Commissioner to examine the matter within a month.
"It is very surprising... There are some missing links in the case. I am sending the full file to the Commissioner of Police to let the case be examine...," the judge said.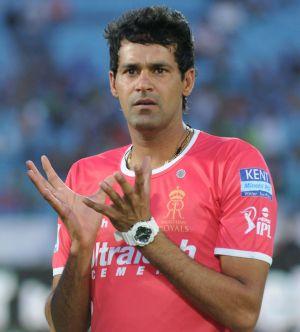 The court kept pending the bail plea of Chandra Prakash Jain alias Chandresh Jain, who was allegedly accepting bets by the name of Jupiter, saying that probe against him was still going on and police is yet to file charge sheet against him.
During the hearing, the court fixed October 7 for hearing the arguments on police's plea seeking cancellation of bail granted earlier to suspended cricketer S Sreesanth, Ankeet Chavan and 19 others who were arrested in connection with the case.
The accused, including Sreesanth and Chavan, who were earlier granted bail, today appeared before the court in pursuance to the notices issued to them.
Police had filed its 6,000-page charge sheet against 39 persons. 40th accused Chandresh Jain was arrested after filing of the charge sheet in the case.
Chandila was arrested along with two other cricketers S Sreesanth and Ankeet Chavan of Rajasthan Royals along with 26 others in the case.
The court had on June 10 granted bail to Sreesanth, Chavan and 19 others for lack of evidence against them to be charged under MCOCA.
The police had in its charge sheet said that accused underworld don Dawood Ibrahim and his aide Chhota Shakeel, who have been "controlling the fixing and betting market" in cricket in India, were behind the IPL spot-fixing.
The other accused named in the charge sheet include Manoj Guddewar, Amit Kumar, Jiju Janardhan, Chandresh Patel, Mohd Yahya, Bhupender Nagar and Sayed Durez Ahmed.
As per the charge sheet, the nine absconding persons are Dawood Ibrahim, Chhota Shakeel, their associates Dr Javed Chutani, Salman, Ehteysham, Mohd Amir and bookies Sanjay Aggarwal, Praveen Kumar and Sandeep Sharma.
Earlier, the court had issued 'open' non-bailablewarrants (NBWs) against Chutani, Salman alias Master and Ehteysham, who all are considered to be close associates of Dawood.
An NBW is termed as 'open' when no time limit is fixed for its execution.
On police's plea, the court had also issued NBWs against four alleged bookies, Sanjay Aggarwal, Mohd Shakeel Amir, Praveen Kumar G Thakkar and Sandeep Sharma whose names had cropped up during interrogation of other arrested accused.
Image: Ajit Chandila
Photograph: BCCI