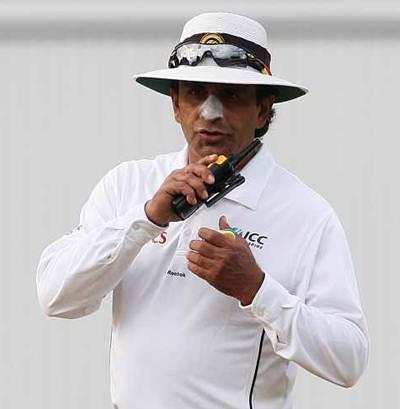 Pakistani umpire Asad Rauf, who was embroiled in the IPL spot-fixing scandal, has been banned for five years from umpiring or playing or representing cricket in any form or anyway being associated with the activities of the Board of Control for Cricket in India and its affiliates.
The decision to ban Rauf was taken at the BCCI's Disciplinary Committee's meeting in Mumbai on Friday after he was found guilty of 'misconduct and corruption'.
Rauf did not appear before the committee but had sent his preliminary submissions on January 15 January and written statement on February 8.
A statement from the BCCI said, "The committee, after considering the report of the Commissioner of Enquiry and the written statement of Rauf, arrived at the conclusion that Mr. Asad Rauf is guilty of misconduct and corruption within the meaning of Article 2.2.2, 2.3.2, 2.3.3 and 2.4.1 of the BCCI Anti Corruption Code."
The 59-year-old Rauf, who was part of the ICC's elite panel and officiated in Test matches, was accused of accepting expensive gifts from bookies besides placing bets on IPL matches in the 2013 edition of the cash-rich Twenty20 tournament.
He was investigated by the BCCI and Mumbai police for his involvement in the spot-fixing case and first dropped from the Champions Trophy umpires' panel and then not retained on the ICC Elite panel of umpires.
Rauf's ban ends the BCCI's disciplinary proceedings pertaining to the 2013 IPL spot-fixing scandal and subsequent allegations of corruption.
Last month, Haryana off-spinner Ajit Chandila was slapped a life ban for his involvement in the spot-fixing scandal, while Mumbai batsman Hiken Shah was handed a five-year suspension for making a corrupt approach to a fellow-player.
The 32-year-old Chandila , an off-spinner who was found guilty of spot-fixing during his stint with Rajasthan Royals, was handed a tougher punishment for violating the codes pertaining to accepting bribes, fixing, underperforming, trying to induce a fellow-player and betting.
Image: Asad Rauf