There is no dearth to Chennai Super Kings troubles from the time their former CEO Gurunath Meiyappan's name has cropped in the Mumbai police's list.
To add to their woes, the police have managed to build a strong case of betting against BCCI president's son-in-law Gurunath Meiyappan who was questioned jointly with Vindoo Dara Singh. Both Vindoo and Meiyappan were arrested on charges of betting in the IPL games.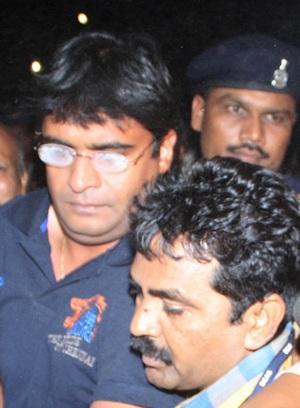 The duo were brought together for questioning and both acknowledged knowing each other. Both of them had individually told the police that they had placed bets on IPL games, but denied everything to do with spot fixing. The police had said that they had a doubt regarding spot fixing, but were confident about bets being placed.
During the joint questioning, both Meiyappan and Vindoo said that they knew each other for 10 years. Vindoo was the middleman who placed bets for Meiyappan. He used his contacts with bookies to place these bets. However despite the 10 year association, both claimed that bets were placed only since the past few years. They started off by betting on games with Rs 10 lakh in the third edition of the IPL and in the current year the bets went up to Rs 1 crore.
Further during the interrogation, Vindoo said that there were instances when the team strategy was shared and passed on to the bookies. However Meiyappan denied this when confronted and said that the extent of the interaction was only regarding placing of bets. There was no strategy discussed and also no instance of spot fixing.
The police will now seek further custody of Meiyappan and also tell the court that they need to question for further details in the case.
Photograph: Sahil Salvi
Also Read
'IPL final on schedule, no threat to CSK for now'
Will CSK overcome controversy and Mumbai?
BCCI mulls over suspending Srinivasan if he doesn't resign