The Mumbai police on Friday arrested big-time bookie Shobhan Mehta in connection with the IPL betting case after picking up him from Goa. The latest arrest takes the number of arrests in the case to 17.
Acting on a tip-off, a crime branch team laid a trap and picked up Mehta, alias Kalachowkie, 48, from a casino on a boat in Goa on Thursday and placed him under arrest on Friday after bringing him to the city, a police office said.
"Mehta was with his family when he was picked up. He will be produced before a court tomorrow," the officer added.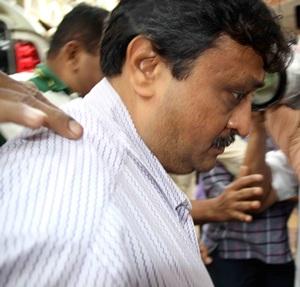 The Mumbai police, probing the IPL betting syndicate, had earlier arrested 16 persons in the case, including Chennai Super Kings owner Gurunath Meiyappan, who is also son-in-law of Board of Control for Cricket in India president N Srinivasan, Bollywood actor Vindoo Dara Singh, and bookies Ramesh Vyas, Ashok Vyas, Pandurang Kadam among others.
"Mehta had been staying in Goa since June 28 and used to spend time in the casino throughout the day before leaving for a hotel late evening," the officer said.
Mehta's last call was traced to Mumbai on May 15, the police said, adding that he was in touch with Chandresh Patel, alias Jupiter, who was arrested by the Delhi police in connection with the IPL spot-fixing case.
"Mehta was also in touch with arrested accused Vyas, Ashwin Agarwal alias Tinku Delhi, and wanted accused Pavan Jaipur and Sanjay Jaipur in the IPL betting case," the officer said.
Police claimed he placed bets and earned crores of rupees through IPL betting, but did not reveal the amount he pocketed.
Shobhan is infamous in the city for allegedly receiving bets from film stars and producers, procuring women for players, and throwing parties for foreign cricketers in order to carry out match-fixing. He is believed to have connections with Dubai and Karachi.
He was earlier arrested in 2005 in a betting case and is alleged to have established a well-connected network spreading across Mumbai, Jaipur, Chennai, Calcutta and Delhi.
Image: Shobhan Mehta
Photograph: Sahil Salvi