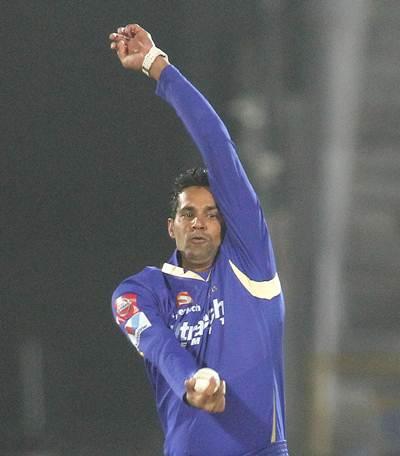 The Board of Control for Cricket in India's three-member disciplinary panel, headed by president Shashank Manohar, will meet this week to decide the fate of Ajit Chandilla and Hiken Shah who are accused of trying to fix games in the 2013 and last edition of the Indian Premier League respectively.
According to a BCCI source, the panel, which will meet in Mumbai on December 24, has the powers to impose punishment, including life bans, on the cricketers.
Chandila was arrested by the police for allegedly trying to spot-fix IPL games in 2013 along with his then Rajasthan Royals teammates Shantakumaran Sreesanth and Ankeet Chavan, who were banned for life.
The BCCI is yet to decide on the quantum of punishment to be awarded to Chandila, who was suspended from the game two years ago.
It will also decide on the punishment for Mumbai Ranji Trophy cricketer Hiken Shah for alleged breach of the Board's anti-corruption code ahead of this year's IPL.
"Hiken Shah made a corrupt approach to one of his colleagues from first-class cricket, who is also a member of one of the IPL teams," the BCCI had said in a statement in July.
"The approached player immediately informed the incident to his franchise team. The franchise team followed the process of informing the incident to the Anti-Corruption Unit of the BCCI. Based on the information, BCCI President, Mr Jagmohan Dalmiya (now deceased), instructed ACU to conduct an immediate inquiry into the matter.
"After a detailed inquiry into the reported incident, the inquiry commissioner found Hiken Shah guilty of committing breach of Articles 2.1.1; 2.1.2; and 2.1.4 of the BCCI Anti-Corruption Code for participants and recommended their provisions to the BCCI President," the statement added.
Shah is also under suspension pending the final decision by the disciplinary panel, which also has Jyotiraditya Scindia and Niranjan Shah as its members.
Meanwhile, the BCCI's National Cricket Academy's Board is to meet a day earlier, on December 23, at Cricket Centre in Mumbai to "decide on the structure of the NCA and appoint batting and bowling coaches," said the BCCI source.
The NCA Board is headed by Niranjan Shah of Saurashtra, with former Test cricketers Dilip Vengsarkar and Chetan Chauhan among its members.
Image: Ajit Chandila
Photograph: BCCI
© Copyright 2021 PTI. All rights reserved. Republication or redistribution of PTI content, including by framing or similar means, is expressly prohibited without the prior written consent.