N Srinivasan continues to remain defiant.
On Wednesday, he again played with a straight bat, refusing to confirm whether he is back in office as president of the Board of Control for Cricket in India.
Asked if he is back at the helm, he told newspersons to stop "hounding him".
"I can't reply; don't hound me like this," he declared.
There was intense media speculation that Srinivasan, who stepped aside as BCCI chief pending an inquiry into the IPL spot-fixing scandal, had resumed duties on Tuesday evening though there was no confirmation.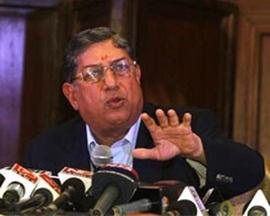 Some BCCI officials, though, said they were not aware of any such development.
The Tamil Nadu strongman has argued that he can return to office now that the two-member internal inquiry commission to probe allegations of spot-fixing and betting in the IPL had completed its report and found no evidence against Chennai Super Kings and his son-in-law, Gurunath Meiyappan.
Hearing a Public Interest Litigation, filed by the Cricket Association of Bihar, a division bench of justices S J Vazifdar and M S Sonak on Tuesday declared the two-member BCCI probe panel "unconstitutional and illegal".
Unfazed by the court order, Srinivasan insisted he will attend the Board's Working Committee in Delhi on August 2.
Following the Bombay high court's order confusion prevails within the Board. Interim chief Jagmohan Dalmiya says he has no clue who who will chair the August 2 meeting.
'Who will chair August 2 meeting? I myself do not know where is the chair... Let me first understand where do I stand... I do not have any information officially. This however does not mean there is some difference with the BCCI,' Dalmiya said on Tuesday evening.
There are indications that some BCCI officials are not too happy about Srinivasan's attending the meeting.
"In view of the court's verdict, it would be better if he (Srinivasan) shelves his plans of returning as BCCI oresident for the time being. He should wait till the matter is discussed and there is some more clarity," a BCCI official said.
The working committee will decide whether to immediately appeal against the verdict in the Supreme Court or wait till the police authorities complete their probe in the matter.
The IPL spot-fixing scandal broke when India pacer Shantakumaran Sreesanth, his Rajasthan Royals team mates Ajit Chandila and Ankeet Chavan and 11 bookies were arrested for alleged spot-fixing in the sixth edition of the IPL.
The contracts of the tainted players were terminated by their franchise, which also lodged a criminal complaint against them.
It snowballed into a crisis for the BCCI when Srinivasan's son-in-law and Chennai Super Kings team principal Meiyappan was arrested on charges of betting on May 26.
A internal probe panel, originally comprising former judges Chouta, Balasubramanian and then BCCI secretary Sanjay Jagdale, was constituted on May 28 to investigate the allegations against Meiyappan, who maintained innocence after being granted bail.
Srinivasan, who owns the CSK franchise, remained defiant through the turmoil and refused to resign but had to step aside as president after a stormy emergent Board meeting on June 2 where Dalmiya took charge of an interim arrangement to run the BCCI's affairs pending the inquiry.
The upheaval led to the resignations of Board secretary Sanjay Jagdale and treasurer Ajay Shirke, who asked for Srinivasan's resignation on moral grounds.
Image: N Srinivasan