Mumbai left-arm spinner Harmeet Singh, who was let off for lack of evidence in the Indian Premier League spot-fixing probe, expressed happiness, saying he always maintained he was innocent.
"My stand has been vindicated. I am happy that BCCI listened to what I had to say.
"I have always maintained that I was innocent (of any wrongdoing). Now I can play; otherwise, my career was at stake," said the youngster, who played for Rajasthan Royals in the sixth edition of the cash-rich Twenty20 extravaganza, through his lawyer, Ashok Paranjpe..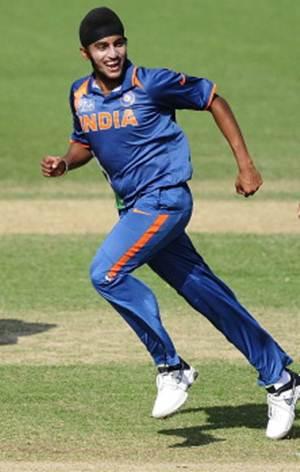 Paranjpe, who accompanied the bowler to Delhi after the player requested that he be present at the disciplinary committee's hearing, said his client was given a clean chit as he neither committed any offence nor breached the BCCI's Code of Conduct.
- Timeline: IPL spot-fixing scandal
"BCCI has given him a clean chit and found that he had not committed any offence or breach of its Code of Conduct.
"The allegation against Harmeet was that he should have informed the wrongdoings of co-players. However, the player had given a statement to the magistrate and also informed about the same to the BCCI's one-man inquiry commissioner (Ravi Sawani)," he said.
Asked whether he attended the hearing with Harmeet, Paranjpe replied: "BCCI did not allow me to represent Harmeet and so I did not attend the hearing."
Earlier on Friday, the BCCI's Disciplinary Committee, comprising N Srinivasan, Arun Jaitley and Niranjan Shah, banned India pacer Shantakumaran Sreesanth and his Rajasthan Royals team mate Ankeet Chavan for life for their alleged role in the scandal that rocked the sixth edition of the IPL.
The decision followed BCCI Anti-Corruption Unit chief Ravi Sawani's probe and his report, which found Sreesanth, Chavan, Ajit Chandila and Amit Singh guilty on multiple counts.

Amit Singh, who played for Rajasthan Royals in 2012, was banned for five years from playing any representative cricket, or in any way being associated with the activities of the BCCI or its affiliates.

Rajasthan Royals pace bowler Siddarth Trivedi was banned for a year after being found guilty for failing to report approaches by bookies.
Image: Harmeet Singh