Mumbai Indians pacer Mitchell Johnson feels the despicable on-field spat between rival captains Gautam Gambhir and Virat Kohli could have been a spur of the moment incident arising out of healthy competition.
"I missed that game but I did hear about it. Everyone is competitive, it doesn't matter if in that instance it was two Indian players (getting involved).
"Look, it's healthy competition. You don't plan for those things to happen. It's just something that happens, it's the nature of the game," Johnson said, ahead of the home-tie against Pune Warriors at the Wankhede stadium.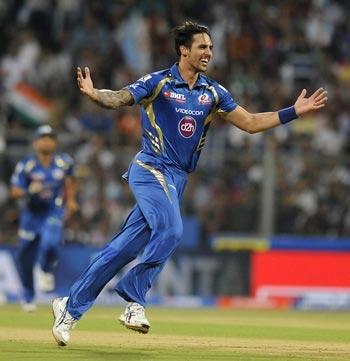 "Everyone is out there to win and everyone is fired up.
"Like I said, the situations in games can get on you very quickly because it is a fast game. But during those moments you have got to sit back and try and relax a bit and take your time. I didn't see the incident. Whatever happened, I didn't see it," the left-arm Australian pacer added.
Kohli and Gambhir, who both play for Delhi in domestic cricket, were involved in an on-field altercation after the latter was dismissed in the 10th over of the innings.
As Gambhir and other players walked towards cover region to celebrate the dismissal, Kohli, instead of trudging back to the pavilion, walked towards short extra cover and apparently made a remark.
Suddenly, Gambhir was seen walking angrily towards his junior India teammate. However, it was another Delhi lad, Rajat Bhatia, who got in between them and tried to calm Gambhir down.
Later, both players were officially warned and reprimanded for breaching the tournament's code of conduct after admitting to Level 1 offence of using language or a gesture that is obscene, offensive or insulting during the match.
Photograph: BCCI