The Justice Mukul Mudgal-led committee, which was appointed to investigate the match-fixing and betting scandal in the Indian Premier League, submitted its final report in a sealed envelope to a special Supreme Court bench, comprising Justice TS Thakur and Ibrahim Kalifulla on Monday.
-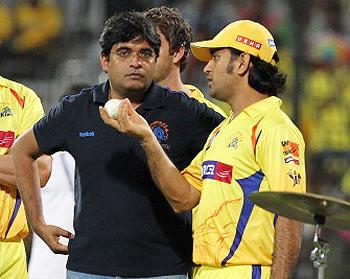 IPL Spot-fixing saga
- Timeline: How IPL spot-fixing propelled BCCI's shameful fall
- The Justice Mudgal IPL Probe Committee report
The report was submitted almost six months after the apex court asked Indian Police Service officer BB Mishra and the police departments in Delhi, Mumbai and Chennai to assist the investigation.
The next Supreme Court hearing of the case is November 10.
Meanwhile, the Board of Control for Cricket in India's annual general meeting is scheduled to be held on November 20. The outcome of the Mudgal Committee report is expected to have an impact on the voting pattern and ICC chairman N Srinivasan's future as a cricket administrator.
The Supreme Court had, on May 16, felt the need to dig deeper for information on the scam after the Mudgal panel's preliminary report mentioned the names of 13 important cricket officials, (including Srinivasan and 12 players) in a sealed envelope, against whom allegations ranging from corruption to conflict of interest had been made.
Mishra, assisted by a team of police investigators in the last few months, had extensive interactions with top players, including Indian skipper Mahendra Singh Dhoni, agents of cricketers and BCCI functionaries.
They were questioned about IPL Season 6, their corporate partnerships, business interests and the power wielded by franchise officials.
Dhoni was specifically asked about Gurunath Meiyappan's role in IPL team Chennai Super Kings.
Meiyappan, the son-in-law of Srinivasan, was arrested over allegations of betting on IPL games. Aided by fresh evidence, the final report is expected to confirm that Meiyappan was an important Chennai Super Kings official and that he was involved in betting during the 2013 IPL.